The Power Platform 2023 Release Wave 1 has a whole bunch of new features. One of them is an exciting improvement in In-App Notifications feature…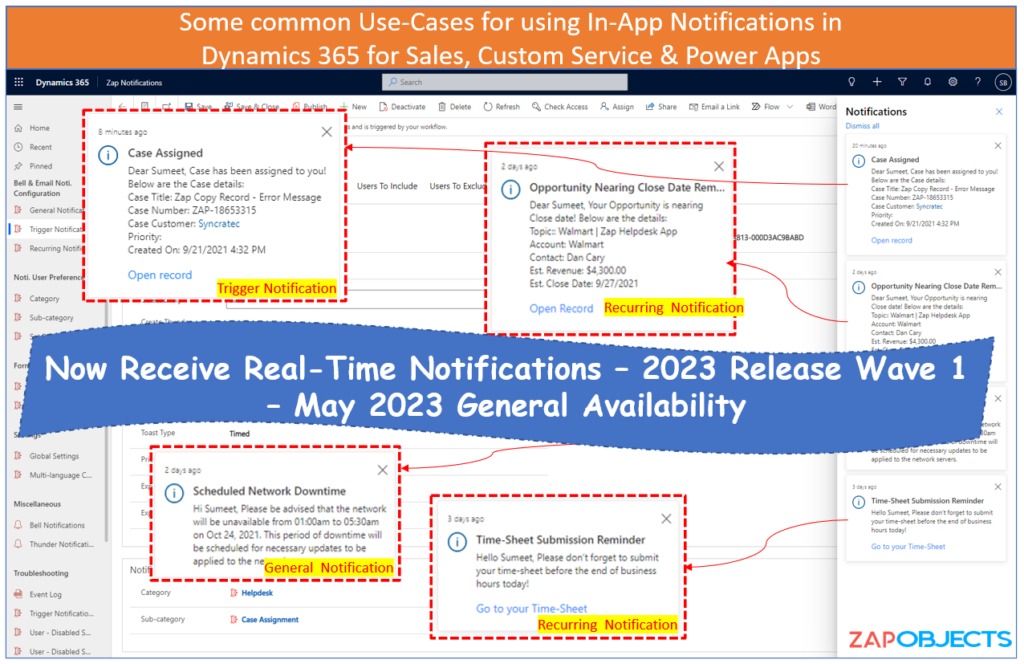 Microsoft released In-App Notifications feature in 2021 Release Wave 2. This feature allows the configuration of In-App notifications that pops out for users in the notification center while working in their model driven web apps. Some common use-cases are:
Use Case 1: Company Announcements like Scheduled Network Down-time
Use Case 2: Notifying User on Lead / Case Assignment
Use Case 3: Notifying User when they are tagged / mentioned in a Post in Timeline of Lead / Account / Opportunity / Case or any entity.
Use Case 4: Timesheet Reminder Notification every Friday.
Use Case 5: Opportunity Follow-up reminder to Users whose opportunity is nearing Est. Close Date
However, these notifications were not real-time… they used to show up only when user is navigating.
With 2023 Release Wave 1 – these notifications will now be delivered in real-time – enabling business scenarios where the user must immediately be informed about events in the organization.
For more details regarding this feature release, please refer Microsoft KB article: https://learn.microsoft.com/en-us/power-platform/release-plan/2023wave1/data-platform/receive-real-time-notifications-power-apps
How Zap In-App Notifications Generator App can help:
In Dynamics 365 / Model Driven Apps, you can generate In-App Notification for Single User only (by using the documented approach as per MSFT KB article). Besides no easy way to dynamically add values from record in to the message… for example adding user-name, case field values, opportunity field values etc within the message.
Zap Notifications Generator App allows bulk generation of In-App Notifications: onDemand, based on Triggers Or based on Recurring pattern + Form Notifications + Email Notifications! Further, the app also comes with a token creator which allows you to easily insert values from current record within the notification.
This blog is part of our series "Introducing Zap Notifications Generator App for Dynamics 365 Sales, Customer Service & Power Apps".
Below are links for all blogs in this series:
Blog 1: Generate In-App Notifications in Bulk for multiple users / teams (link)
Blog 2: Some common user-scenarios for using In-App Notifications (link)
Blog 3: Generate In-App Notifications automatically as per Recurring Schedule (link)
Blog 4: How to insert record field values within the In-App Notification message (link)
Blog 5: How to generate In-App Notification from Power Automate / Flow (link)
Blog 6: Sending out In-App Notification when User is tagged or mentioned in Timeline  (link)
For more information regarding Zap In-App Notifications Generator App or to take trial, refer: https://zapobjects.com/apps/zap-notifications/
Email support@zapobjects.com if you have any questions.
To view all Zap Apps, check-out: https://zapobjects.com/
Zap Recent Updates (May 2023)
1. Completely Revamped: Zap Attachment Viewer (with drag-and-drop): This release doubles the features available earlier!!! Some of them are Improved UI, gallery view, drag-and-drop, rename file names, delete attachments, attach to email, view attachments from related records etc.
2. New Version Released: Zap PSA Time Entry App (Track Time against Cases): Track and log time spent by support agents on cases directly from Case form (either using built in Timer functionality or manually add Start & End Times or duration)! The latest version provides automatic calculation of "Extended Price" based on Hourly/staff rates that have been configured in Contract.
3. New Version Released: Zap Copy Record App (v 23.0.1.9): Now Copy Record even from One Entity To Another (e.g. Copy Record from Case To Opportunity (link)
4. New Version Released: Zap In-App Notifications App (v 53.0.1.9): Support for sending In-App Notification when User/s are mentioned in Timeline of any record (link)
5. New Version Released: Zap Report Scheduler App (v 33.0.1.9): Now automatically share the generated report download link to Teams channel. For details, refer blog: Automate the generation of Report and shared to Teams channel when using Zap Report Scheduler App (link)
6. New Version Released: Zap Helpdesk App (v44.1.1.9) :A super major version of Zap Helpdesk has now been released. Some of the new features are: Case History, Email Reply – with ability to include full email and portal history in all new responses to customer, dedicated notifications module with all standard set of notifications built-in, Email Commands, and many more!
For questions regarding any Zap App, email sales@zapobjects.com.