Zap Email Parser
Create Any Record from  Email:
Extract email data to create Sales Leads, Support Cases, Custom Entities etc automatically using Zap Email Parser App. Save hours of manual data-entry!
Works With: Power Apps (Model Driven) | Dynamics 365 CE
Zap Email parser extracts email data to create NEW Records (in Power Apps / Dynamics 365 CE). The App parses the email subject and body based on the configuration that has been set-up.
Use Case 1: Create leads automatically for emails received on your sales mailbox (Email-to-lead)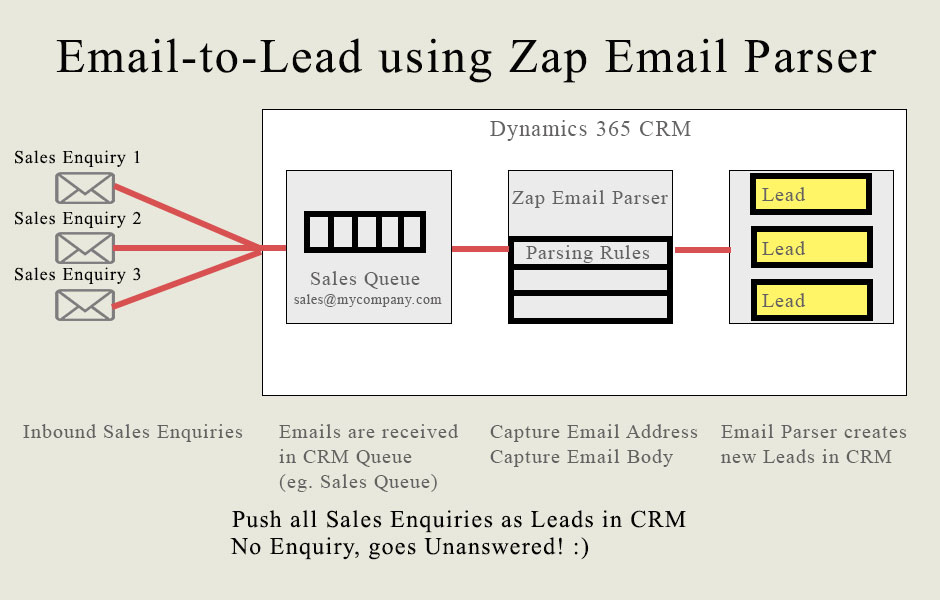 Most of the companies have a generic sales email address set-up (e.g. sales@zapobjects.com) to which prospects can send sales related enquires. Wouldn't it be great, if these enquiries can be added automatically to Dynamics 365 CRM as leads?
Zap Email Parser can automate this for you! The Parser would extract the contents from these emails to create leads in CRM. This way, no enquiries go unanswered and are pushed to opportunities quickly! For details, refer link.
Use Case 2: Create cases automatically for emails received on your support mailbox (Email-to-Case)
Easily create cases in CRM from emails received at your support mailbox. The emails can be parsed to automatically set customer, title, description, priority, origin, owner and any other field on Case form by parsing the email subject and body. For details, refer link.
Use Case 3: Extracting data from Web forms
Many online businesses have web forms that visitors fill-in such as contact forms, support request forms, registration forms, survey forms etc. After a visitor submits the form, the content is sent to the web site owner via email.
Think how much time it would take you to manually extract email form data and then create corresponding records in CRM! Even if you receive such dozen submissions daily then it can literally take lot of your working time.
Further, the process of distributing leads to the sales team and reaching the prospects will also slow down. That's where Zap Email Parser can help, bridging the gap between creating new records in CRM from forms on your website. For details, refer link.
Use Case 4: Easy Data-Entry
Zap Email Parser's Easy Data-Entry feature allows you to create CRM records… by sending email commands to CRM from your mailbox. e.g. you just met a potential lead and would like to add his details to CRM… you can do that just by sending the below details to CRM:
====================================================================
first name: Nick
last name: Cary
company: Zip Mart
email: nick.cary@zipmart.com
topic: very interested in our email parser app
====================================================================
Send this email and BAM!… a new lead would get automatically created in CRM!
Set the configuration once, and let Email Parser do the rest! For details, refer link.
Create Any Power Apps / Dynamics 365 CE Record
Easily create sales leads, support cases or any record in Power Apps / Dynamics 365 CE from email data (which may have generated from Contact-Us form on your website or any legacy system)

Easy Data Entry
Work smart, not hard. Easily create new records in CRM by sending commands over email. No need to login to CRM for creating newer records (very interesting feature…be sure to give this one a try)

HIPAA Compliant
Zap Email Parser App does all parsing natively within your CRM and no data is sent out to any external service. For more information refer link.

Easy Configuration
One-time easy set-up of parsing rules to extract data from email. Also creating parsing rules is straight-forward and does not need any coding.

Support for Multiple Configurations / Templates for each Queue
Ability to specify filters in each configuration… so that only the matching configuration is applied to incoming email!

Ability to specify a Default Configuration for Queue
If none of the Configuration filters match the incoming email then a default configuration could be applied too!

Email Tracking
Functionality to automatically track the email against the newly created record

Parse existing emails
Functionality to parse even existing emails by running the OnDemand workflow

Spam Protection
A built-in anti-spam filter which will allows processing of only those emails that match the configured keywords
General FAQ
How do I start trial?
admin
2018-05-16T18:39:54+05:30
Download and install the app solution file. Browse to Zap Apps >> Zap License to open the license registeration page (Refresh the page, if "Zap Apps" is not visible in sitemap). Fill-in the details and click "Register" button.
This will automatically start your 15-day trial. Feel free to email support@zapobjects.com if you have any questions.
Zap Email Parser FAQ
Is the newly created CRM record linked to the received email?
admin
2018-01-05T18:02:02+05:30
Yes, the regarding field in email is set to the newly created record. You can view the email in the activity section of this record.
What CRM field data-types are supported?
admin
2019-06-13T19:40:14+05:30
Below CRM field data-types are supported:
Single line text
Multi-line Text
2 Option-Set (yes/no;true/false)
Option-Set
Date-Time
Currency
Integer
Decimal
LookUp
Can we set default values for fields in the newly created record?
admin
2018-01-11T12:08:16+05:30
Yes, to set up default values…select data source as "Default Values" and then enter the text accordingly.
For example, if you wanted to set a default value for "lead source" for the newly created leads…then you would create a parsing rule for field Lead.Lead Source and enter value as "Web" or "Other"
Can incoming emails be filtered based on keywords?
admin
2018-01-09T16:28:48+05:30
Yes, EP configuration has a setting called as 'Subject Filter' under Inclusion section.
Here you can add multiple keywords seperated by ";". If this filter has been specified then email subject having any of these matching keywords would be processed and rest will be ignored. If no values have been specified then no filteration will be applied.
eg. keyword: @case
Only emails having subject "@case" will be processed for the particular configuration.
This allows you to have same queue but multiple configurations…eg. you could setup a support queue and 2 different configuartion records… one for creating leads and other one for creating cases. In the lead configuration…the keyword could be @lead and in case configuration… the keyword could be @case.
Customer Testimonials
We have setup Email Parser App in our Dynamics 365 CRM, so when inbound sales inquiries come through a webform on our site, that information is automatically populated as leads and email notification goes to the sales team. This automation helps us ensure that no enquiries go unanswered and are pushed to opportunity quickly.
Interconnecting systems is really important to us and tools like Dynamics 365 CRM and Zap Email Parser are indispensable to us. Zap Email Parser helps us keep our legacy issue tracking system in sync with our CRM with just a few clicks, a little bit of testing we had the two systems interconnected in a matter of minutes and it has helped keep our CRM automated and updated with the important information that helps us make more informed decisions.
Our sales email inbox is populated with requests for information from a form on the website. We use Zap Email Parser to send those leads from email inbox to CRM. Our partnerships often starts with these emails and we manage all our relationships with CRM.
We had been using Zap Email Parser for some time without any problems. Our partner sadly made some changes that broke the email parsing.

Zap teams support was fantastic. They promptly remoted in and fixed the problems with our system.

Impressed and appreciated – Thank you Julia & Co