Reading emails in Dynamics 365 CE / CRM using classic Social pane (v8) or timeline control (Dynamics 365 v9) is not very user-friendly.
For example timeline control displays all activities in a chronological order with partial details of each email activity. This is helpful and works fine as long as there are few activities … however when the count starts increasing (which is normally the case)…reading through the activities especially emails is quite difficult. Further to view the email details, you would need to open each email activity record (which opens in a separate form)…thus increasing the number of clicks needed!
We are happy to let you know that Zap Objects has now (July 2019) released app :"Zap Email Reader" which overcomes these issues and will make your experience of reading emails in Dynamics 365 CRM very comfortable!
Zap Email Reader App provides an Outlook like reading interface right within Dynamics 365 CRM (screenshot below). The reading pane allows easy reading of the email contents without the need to open up each email record!
To view a more detailed comparison of Zap Email Reader App with 9.0 Timeline View or 8.0 Social Pane, check out my previous blog: Does your Support Team gets lost in reading the Email history in Case form when using Social Pane or Timeline View? 
Lets see how we can use Zap Email Reader App:
Using Email Reader App from Entity form (eg Account form):
As you can see above: All emails tracked against Account record and its child records are displayed… You can configure: emails from which all child records need to be shown (eg you may like to show emails tracked against child Contacts only or only emails tracked against Child Opportunities)… This can be configured using "Zap ER configuration section" as shown below: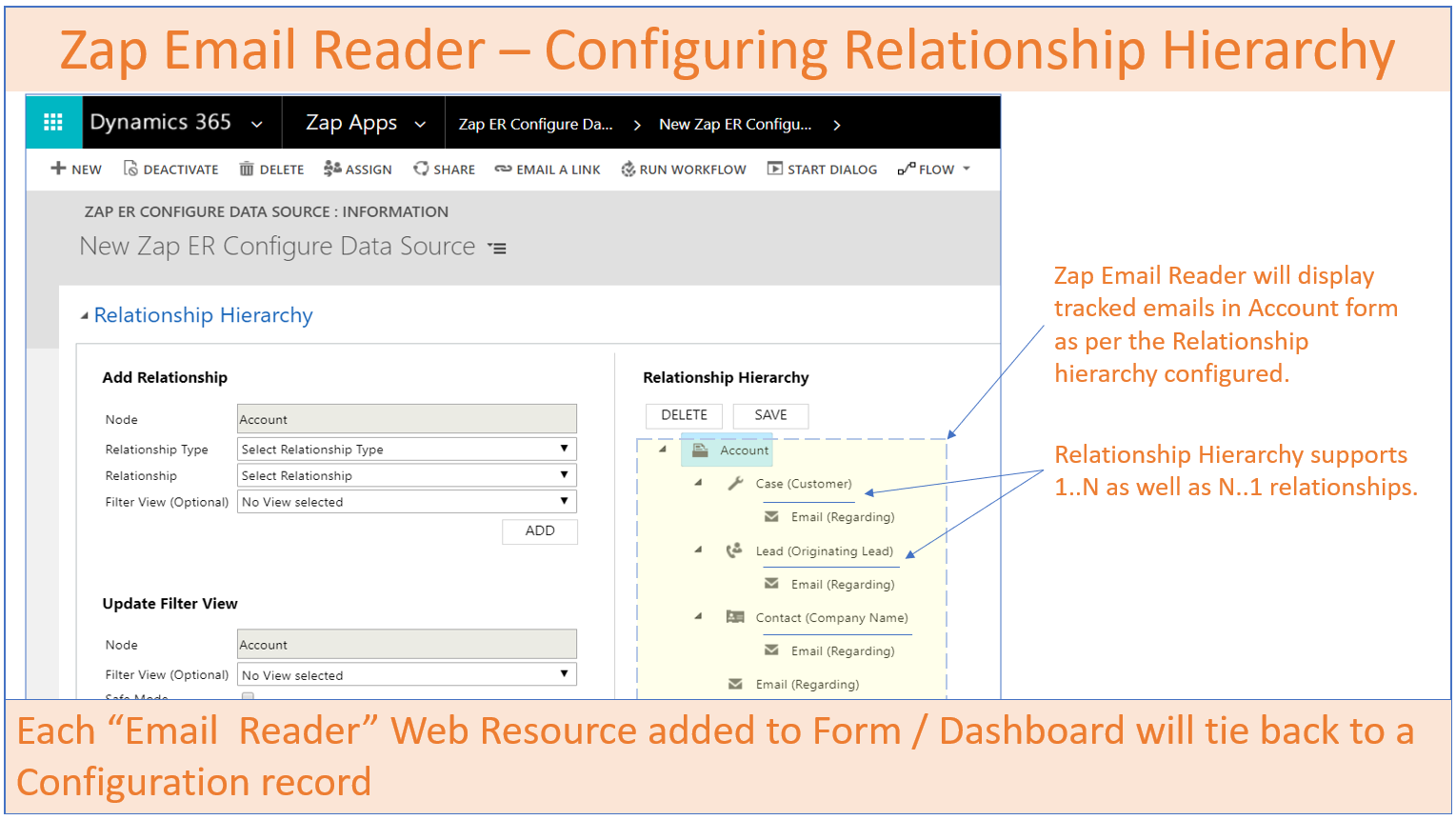 Using Email Reader for viewing Queue Emails (New feature: Jan 2020):
Using Email Reader App from Dashboard:

As you can see above all tracked emails of logged-in user are shown.
Zap Email Reader also comes with ability to filter emails (as shown below):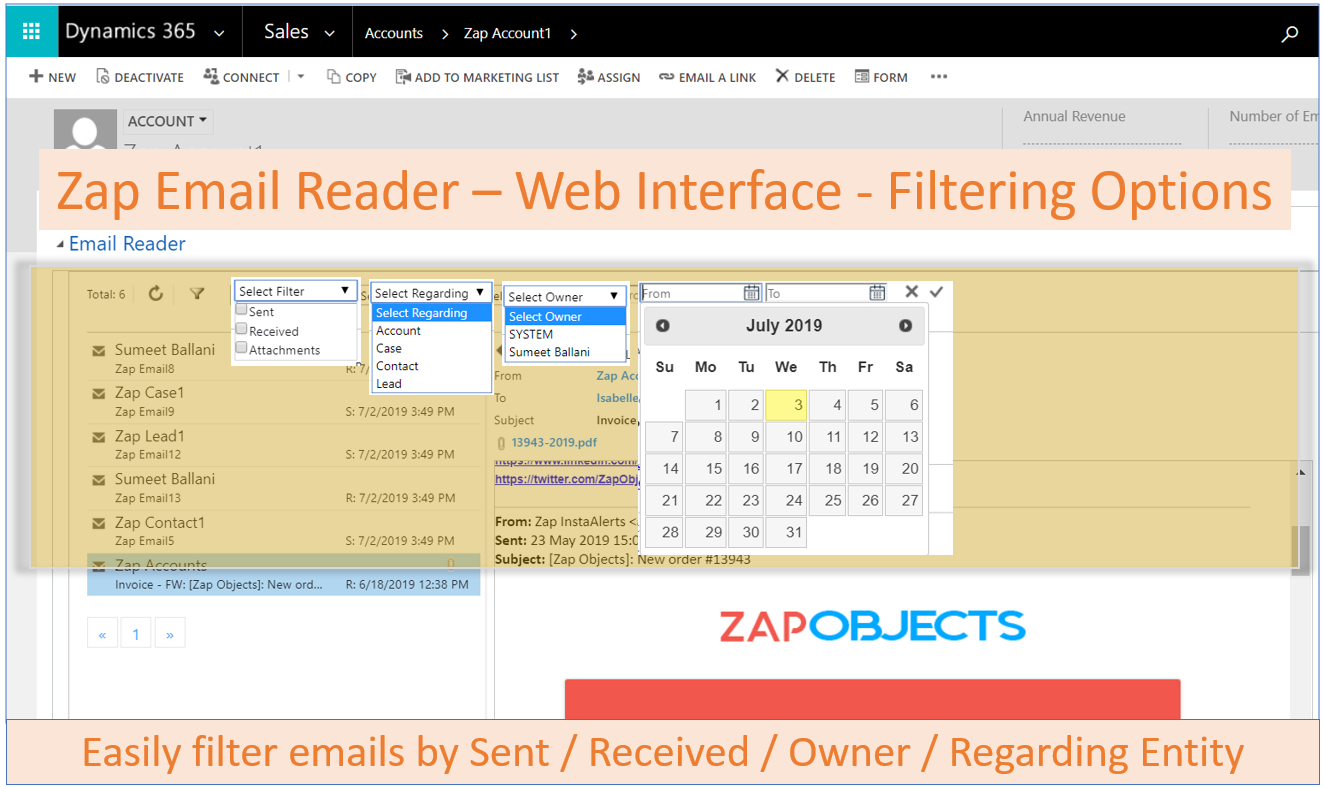 Each filter can be configured whether to be shown or not (further you have very granular control…eg you can show "Regarding" filter only in Web interface and not in Mobile interface)
Zap Email Reader has been made Mobile / Table compatible too!
Screenshot below shows "Email Reader" section as shown in Account form when using Dynamics 365 for Phones App:
Screenshot below shows ability to use filtering when using "Email Reader" section from Dynamics 365 for Phones App:
For more details, refer app product page: https://zapobjects.com/apps/zap-email-reader/
To get started with a free trial, email support@zapobjects.com
To explore all our apps, check-out: https://zapobjects.com/
Latest updates from Zap Objects (July 2019):
New feature added to Zap SSRS Report Scheduler: Automatically email Dynamics 365 CRM Report as a PDF/Excel/Word attachment Or "Attach to Notes" Or "Save to SharePoint" using Workflow when using @ZapObjects SSRS Report Scheduler App for Dynamics 365 CRM Online / On-Premise. For more details refer: link
New feature added to Zap  Helpdesk – Email to Case App: Now Support agent can easily reply to Customer email from Dynamics 365 for Phone app (and have email "From" automatically populated with your Support Queue address)
Our next app: "Zap Activity Rollup" will be released in August 2019!
Zap "All-in-One" Annual Subscription continues to grow with 1 New App added every quarter:This plan covers licenses for all Dynamics 365 CRM Apps provided by Zap Objects. For more details regarding plan benefits and coverage, refer: https://zapobjects.com/product/zap-all-in-one-annual-subscription/For questions regarding Zap All-in-One plan, email sales@zapobjects.com.