Zap Email Reader App provides Outlook-like interface to read emails within Dynamics 365 CE/CRM forms. The reading pane allows easy reading of the email contents without the need to open up each email record!
The "Email Reader" could be added to any entity form (eg Account / Contact / Case form…etc) or even to Dashboard to view Users/Teams emails. Besides for "email reader" being shown in entity form, you could even configure from which all child entities the emails need to be rolled up!
Screenshot of "Email Reader" added to Dynamics 365 Account form: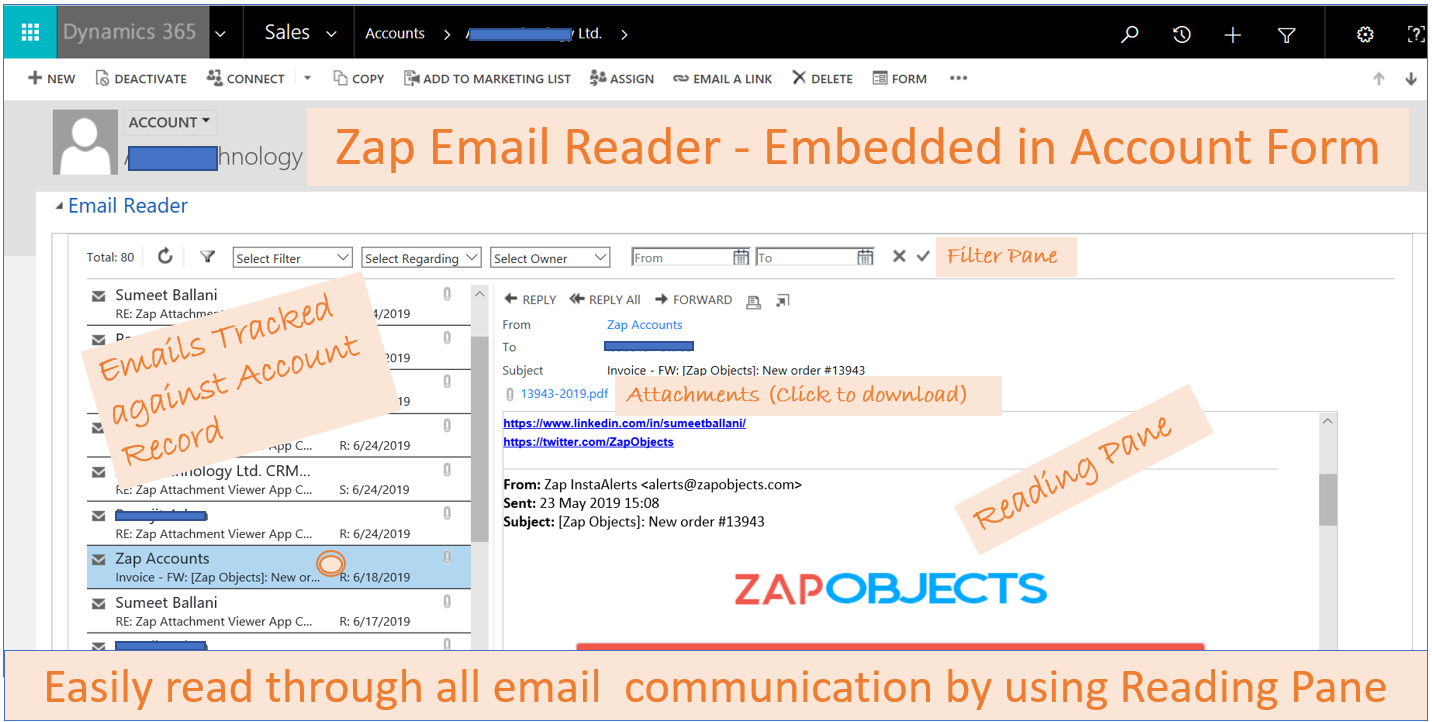 This month (March 2020), we have released a major version of Zap Email Reader App which includes number of enhancements.
Below is the list:
Preview Attachments: To preview attachment, right click (on attachment) and select "View" option. Please note that preview attachment works for files of types image and PDF.
Email Signature Filter: Initially all attachments (inline and regular) were shown in attachments area of email. This also included images which were part of email signature. We had received lot of requests from our "Email Reader" App Customers to reduce this attachment clutter.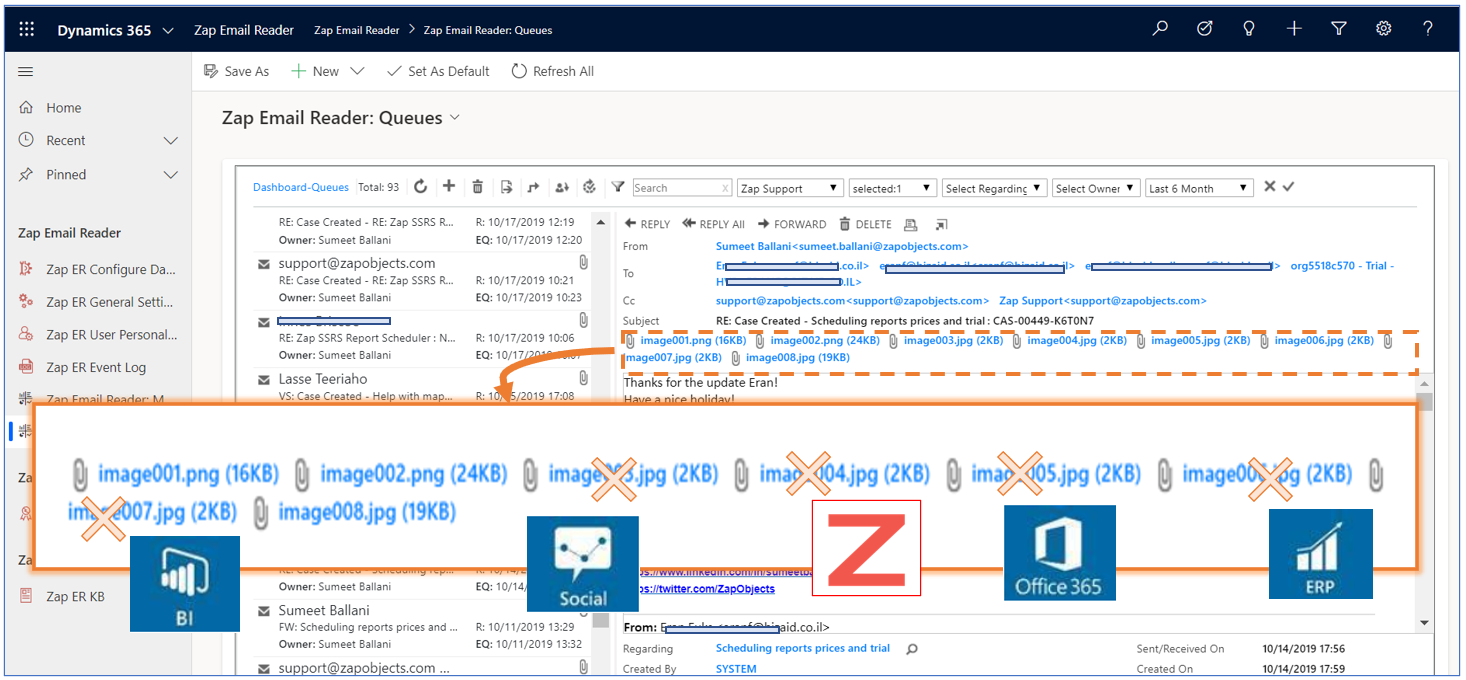 To filter email signature images, we allowed configuring a rule which says exclude email attachments of file type image and having size less than X KB.
However later we found that a better approach would be to hide all attachments (from attachment area) which are inline images in email…this will also hide the image attachments which are shown in email signature! This feature has now been implemented and is presently in Beta!
Display attachment file size along with file name: The file size is now shown appended to file name (as shown in screenshot below):

Ability to Search emails by matching keywords with Email Subject: A new search control has been added to search text matching email subject text.
Option to update Email Regarding field from Reading Pane:
Easy way to delete multiple emails: Select multiple emails and click "Delete"
Display emails with high priority using "!":
Formatting of Email Recipients:
In Out-of-box Dynamics 365 Email form, the email recipients are shown by Name (if a Contact record exists for that email address). The same is true in inline message text when you Reply or Fwd the email. So when you forward the email to someone who is not in Dynamics then they cannot see the email address (as shown in screenshot below)…and cannot reply back…
We had request from few Customers, to show not just Name but also Name + Email Address for the email recipients!
This has now been implemented… (you can select in the settings…whether you want to see just Name or Name + Email Address! (as shown in screenshot below))
(For Case Form  Only) Ability to directly open Helpdesk App – Quick Email Reply Section with "Email" automatically selected:
Zap Helpdesk App has Quick Email Reply Section which provides Support Agent with a faster way to reply to  Customer email (as shown in screenshot below):
Now you can directly open "Quick Email Reply"  section from "Zap Email Reader" App… and the trailing email will also be automatically selected…with all email recipients filled-in…
Below screenshot shows "Helpdesk: Quick Email Reply" shortcut added to "Zap Email Reader" App Reading Pane:
Below Screenshot shows Zap Helpdesk: Quick Email Reply Section automatically populated with the selected email (from Zap Email Reader App):
Below are some useful links to get started quickly:
Demo : Walkthrough of using Email Reader App: https://zapobjects.com/microsoftdynamics365_crm_email_reader/demo-walkthrough-of-using-zap-email-reader-app-for-dynamics-365-for-sales-and-customer-service-ce-crm/
Product Page: https://zapobjects.com/apps/zap-email-reader/
Support Page: https://support.zapobjects.com/
Please feel free to email support@zapobjects.com if you have any questions.