Problem Area:
When using Dynamics 365 for Customer Service, a very common scenario is:
Support Mailbox (support@mycompany.com) has been configured as Queue
All emails (for New Cases as well as existing Cases) are received in to this Queue
Cases are automatically getting created from emails
Support Team keeps a constant check on any new emails received in to this Queue!
Screenshot of emails list as shown in the Queue:
Few pain points of reading emails from Queue:
Multiple clicks needed to view details(email message, attachments, sent/received date, etc) of email
Even more clicks needed to view the images inline in opened email
On clicking any email record, the Email form opens in same window. On closing, you are taken back to start of the list in Queue – So need to scroll all the way to find the last email (that you were referring)
Solution:
With Zap Objects – Email Reader App's latest (Jan 2020) feature "Email Reading pane for emails in Queues", you can drastically improve this User-Experience.
Below screenshot shows, "Email Reader" added to Queues:
The reading pane allows easy viewing of email details…
You can browse through all emails in Queue without the need to open each Email activity record!
Further, you could use 1-Click buttons to perform following actions on the selected emails:
Delete any email activity record
Release emails from Queue
Route emails to Any other Queue
Details about Zap Email Reader App:
Zap Email Reader App provides Outlook-like interface to read emails within Dynamics 365 CE/CRM forms. The reading pane allows easy reading of the email contents without the need to open up each email record!
The "Email Reader" could be added to any entity form (eg Account / Contact / Case form…etc) or even to Dashboard to view Users/Teams emails. Besides for "email reader" being shown in entity form, you could even configure from which all child entities the emails need to be rolled up!
Screenshot of "Email Reader" added to Dynamics 365 Account form: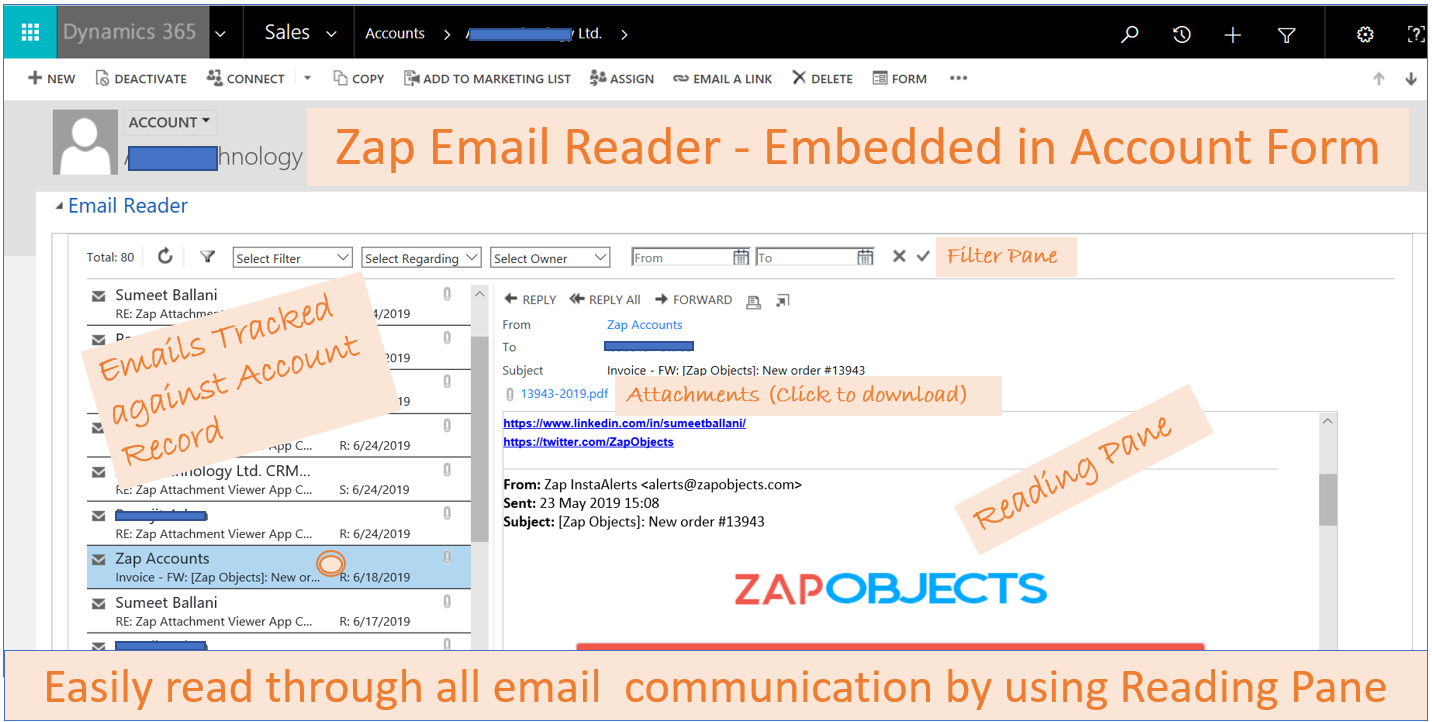 Below are some useful links to get started quickly:
Demo : Walkthrough of using Email Reader App: https://zapobjects.com/microsoftdynamics365_crm_email_reader/demo-walkthrough-of-using-zap-email-reader-app-for-dynamics-365-for-sales-and-customer-service-ce-crm/
Product Page: https://zapobjects.com/apps/zap-email-reader/
Support Page: https://support.zapobjects.com/
Please feel free to email support@zapobjects.com if you have any questions.
Latest updates from Zap Objects (Jan 2020):
Zap All-in-One Combo Plan: Get best value by subscribing to our Zap All-in-One Plan!
Our next 2 Apps are scheduled to be released in Feb-March 2020! More details to follow soon!
Now Schedule Multiple Excel Templates to receive in single email
Now even Schedule Views to receive in email or Save to SharePoint
Workflow Capability now extended even to Word Templates (not just reports) to send Documents (PDF/Word) in email or save to Sharepoint or save to notes.
Reading pane data now working asynchronously which drastically reduces the loading time!
Emails are retrieved not just based on Regarding field but also participant list (was most requested feature for Contact related emails)
Reading pane added even for Queues.
Zap Helpdesk – Email to Case App
Fixed bug related to extracting email address of sender (from email) when email domain contains numeric values(e.g. abc@3step.com)
Released 9.0 build which is compatible with Unified Interface
Zap Calendar Pro
Added ability to add Calendar to data from any entity along with Activities
Released 9.0 build which is compatible with Unified Interface.
Added lots of advanced features. For more information, email sales@zapobjects.com
Released 9.0 build which is compatible with Unified Interface. You can download the latest file from AppSource.
Bulk Copy feature added: Now you can select multiple records in View and Clone/Copy/Duplicate in single click!
To explore all our Apps, check out: https://zapobjects.com/
Feel free to email sales@zapobjects.com if you have any questions.