Dynamics 365 for Customer Service provides a very powerful platform for building Helpdesk system both – for external as well as internal company usage. This blog explains the various elements of customer support process right from first stage: Case creation (by email received from Customer) to final stage: Case resolution.
Please note that even though this blog occasionally references Zap Helpdesk App, you can apply the same concepts when designing your own helpdesk-support process.
1. Customer sends email to your support mailbox:
Let's consider an example scenario: Customer is unable to download product catalogue from your company website… and so raises a case by sending email to your support mailbox (eg support@zapobjects.com)
Screenshot below shows the email sent by Customer (Ken Chako – From Insure-Me) to Zap Objects Support mailbox
2. Email-to-Case creates new case.
Following are the events that need to happen in this stage:
=> Pre-validation of email against spam email addresses (to avoid creation of spam cases)
=> Email body is automatically copied to case description
=> Setting of any default values on the case (eg case origin set to email)
=> Case is automatically routed to Queue / assigned to user (based on configured case assignment rules – by keyword matching, by email domain matching, based on customer preference, etc)
3. Case creation acknowledgment email notification is automatically sent to customer:
Screenshot below shows the email notification that was sent to Customer on case creation:
4. Case creation email notification is automatically sent to internal support team / case owner informing them of this new case that was created:
Screenshot below shows the email notification that was sent to internal support team / case owner: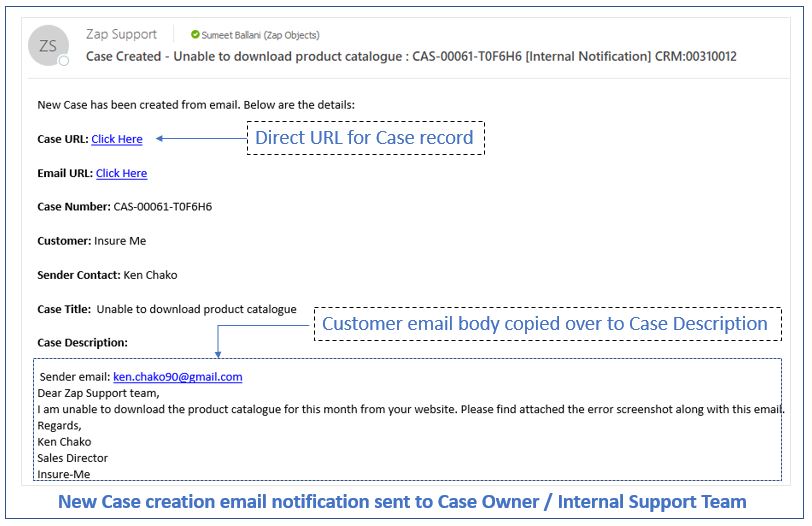 5. Support agent directly opens the Case in CRM by clicking the case URL which was sent in email notification.
Screenshot below shows the Case form with fields auto-populated:
Case Title: Email Subject,
Case Description: Email Body,
Case Customer: Account of Contact with matching email,
Case Contact: Contact with matching email,
Case Source: Email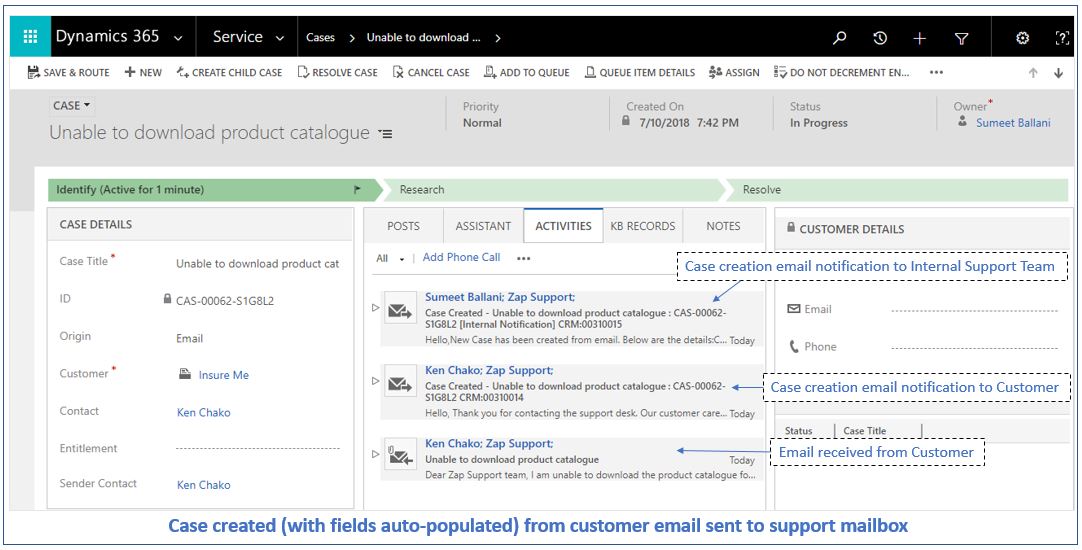 6. Support agent scrolls down to the "Case Attachments" section
Screenshot below shows the "Case Attachments" section in Case form:
Case Attachments section is part of Zap Helpdesk App. This allows the support agent to easily view / download the attachments without the need of opening email records.
7. Support agent wants to reply back to Customer, so scrolls down further to the "Quick Email Reply" section
Quick Email Reply Section (part of Zap Helpdesk App) consists of email editor and drag-and-drop attachments control:
1. Email Editor:
Screenshot: Email editor: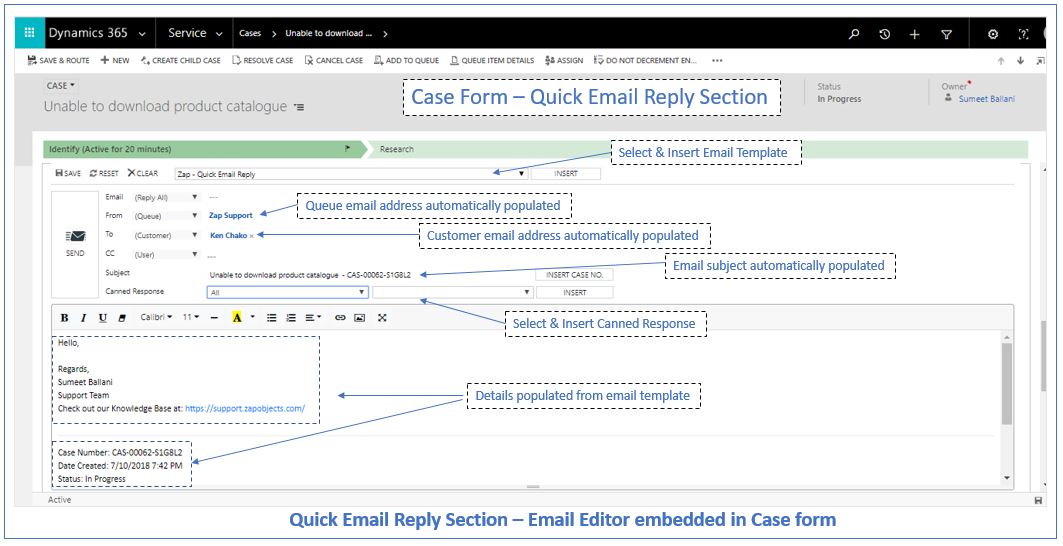 As seen in screenshot above, all fields have been auto-populated there by speeding up the time needed to compose email from CRM. Below are the details regarding the fields:
Email From: User / Queue
Email To: Customer (if Case Customer is Account then we get the email of primary contact)
Email Subject: This comes directly from email template selected
Email Body: This comes directly from email template selected (If email template is not selected then default email signature is populated)
The fields are auto-populated based on default settings in "Quick Email Reply User Settings" configuration entity.
2. Drag-and-Drop Attachments:
Screenshot: Drag-and-Drop Attachments control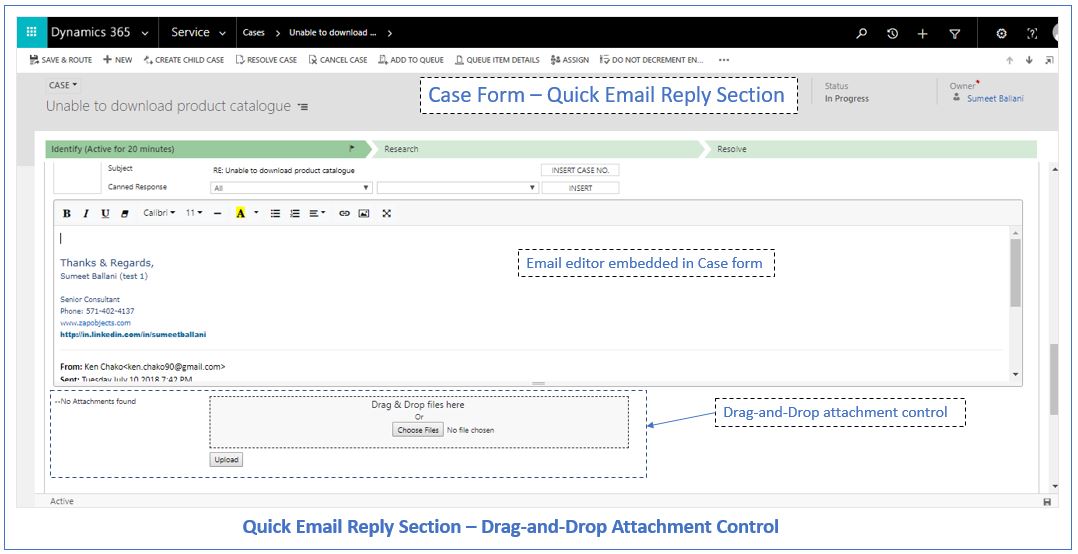 8. Composing email from CRM: There are 2 different approaches that the support agent can use in-order to compose the email in CRM:
Approach 1: Support agent replies by composing a new email
This is the default option selected in the Quick reply email editor. All fields in email are auto-populated. Even the email body has been auto-populated from default email template. For screenshot refer point 7.
Approach 2: Support agent replies by selecting Reply-To the existing customer email
Here the support agent wants to reply to the original email sent by Customer. This can be done by selecting the email from the email drop-down as shown in screenshot below: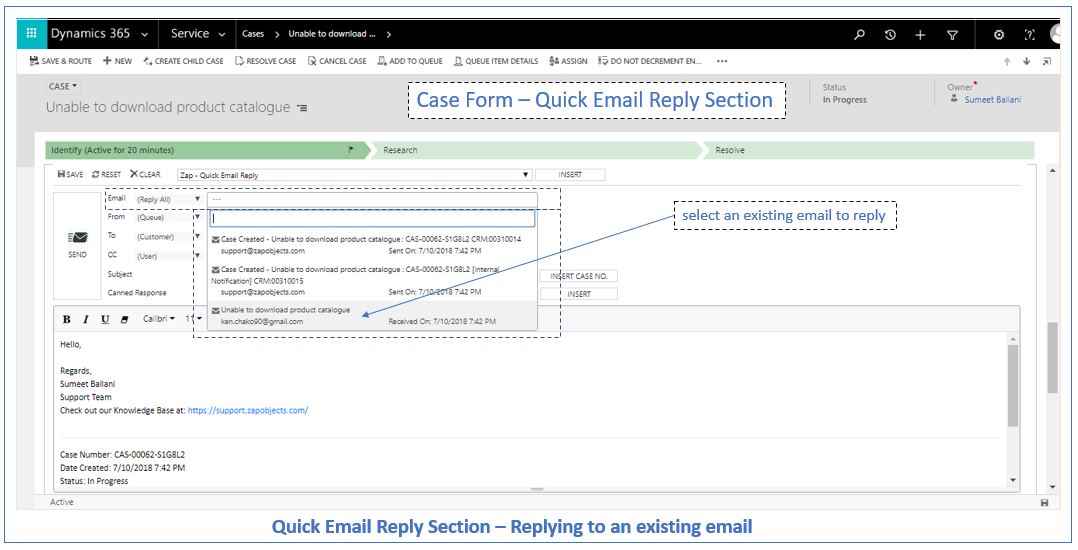 As soon as the email is selected, all fields are automatically populated based on the email selected in drop-down.
9. When composing the email, Support agent can select multiple Canned Responses:
Canned respones help facilitate faster replies to customer and boost agent productivity. These are scaled down version of email templates. You would use canned respones to insert pre-typed text / sentences multiple times across your email.
There has been some great enhancements in Quick Email Reply feature in March 2020 release. For details please refer blog: https://zapobjects.com/microsoftdynamics365_crm_helpdesk_emailtocase_app/how-new-enhancements-march-2020-to-quick-email-reply-section-makes-it-faster-for-support-agents-to-reply-back-to-customer-when-using-zap-helpdesk-email-to-case-app-for-dynamics-365-for-customer/
10. All done! Support agent sends the email by clicking the "Send" button:
11. Now Customer replies back to the support agent's email. Here, the case number needs to be present in email subject.
Scenario: New email received regarding an existing case:
Zap Helpdesk App has algorithm to extract the case number from email subject and then search the case database for a matching case. Once a match is found, below are the actions taken:
1. Set the regarding of the email to the corresponding case (tracking this email to the case)
2. Send email notification to case owner / support team regarding this new email communication received from Customer.
3. Automatically reset the case status from "Waiting for Customer" to "In-Progress":
The reseting of case status automatically when new email response is received is very useful…if you have a workflow setup for sending reminder emails to customer! For more details refer blog: // blog coming up…
12. Back-and-forth email communication between Customer and support team happens. Case may or may not be transferred to multiple support agents. As long as the case number is present in the email subject, all email communication would be automatically tracked against the case.
13. Case Resolved: When case is resolved, support agent can close the Case. An automatic email notification can be sent to the Customer acknowledging the closure of the case.