Zap Helpdesk solution enhances and extends out-of-box email-to-case functionality in Dynamics 365 CRM. The Out-of-box email-to-case is too basic in-terms of functionality and far too complicated to setup…On the other hand, Zap Helpdesk app has tons and tons of features to fully automate your email based support process.
Recently we have added 2 new features:
Ability for Support Agent to reply quickly from Case form using Quick-Email-Reply section
Canned responses to reduce unnecessary typing for support agents and boost productivity (refer blog link)
In this blog, we will go through the current steps that Support agent has to go-through in-order to reply back to Customer from Case-form and how we improve this process using "Quick Email Reply" section provided by Zap Helpdesk Solution.
Do you know how many clicks does your support agent go-through, in-order to send email reply back to customer from Case form? (check the below screenshot)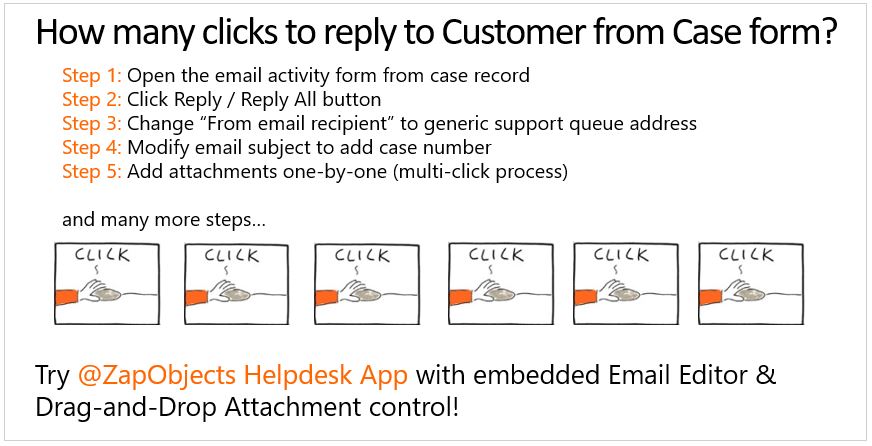 If I say that it is now possible to send email reply from case form in less than 5 clicks… Would you believe?
Let me show you how Zap Helpdesk – Email to Case App: "Quick Email Reply" feature makes this possssible!!
Scenario:
=> Customer is unable to download product catalogue from your company website…
=> So raises a support case by sending email to your support mailbox ( eg support@zapobjects.com).
=> Zap Helpdesk App creates the case and notifies the support team / agent of this new case creation.
For a more detailed use-cases refer blog: How to design a customer support process (email based) when using Dynamics 365 for Customer Service?
=>Now support agent opens the case record and scrolls down to "Quick Email Reply" section…
"Quick Email Reply" section consist of: Email editor and Drag-and-Drop attachments control which have been embedded directly in the case form as shown in screenshots below:
Screenshot: Email editor: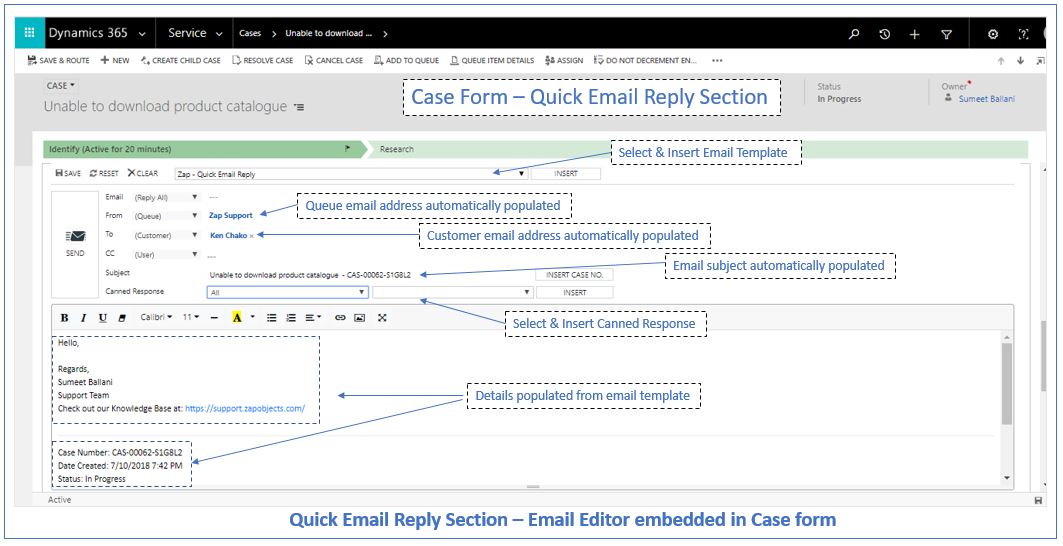 Screenshot: Drag-and-Drop Attachment control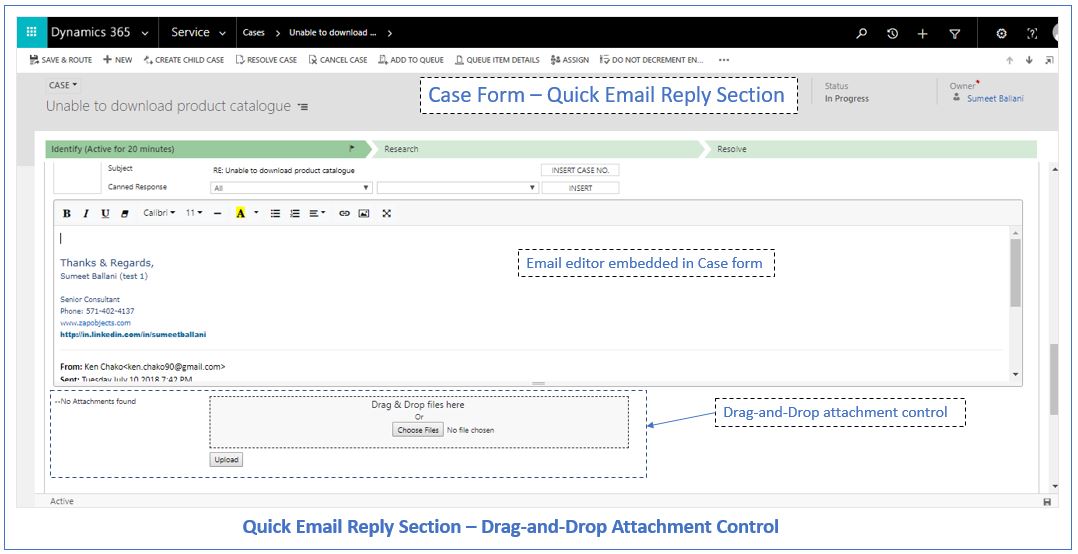 All fields in the quick email reply section (From, To, email subject, email body) have been auto-populated… there by speeding up the time needed to compose an email!!! Further, user can also use multiple canned responses by directly inserting them in email as shown in screenshot below…there by reducing the need for typing anything.
As you can see that "Quick Email Reply" feature can drastically reduce the number of clicks needed to compose email from within CRM and boost your support agent's productivity by more than 50%!
Zap Helpdesk App for Dynamics 365 Customer Service can help you fully automate your email based support process. Below shows feature comparision between Std. Email-to-Case Vs Zap Helpdesk!
Feature Comparision
Std. E2C
Zap Helpdesk
Copy Email body to Case Description field
✖
✔
Copy Email Attachments to Case
✖
✔
Quick Attachment Search from Case form
✖
✔
Quick reply from Case form using Canned Responses
✖
✔
Drag-and-Drop Attachments for Quick email reply from Case form
✖
✔
Link Case Customer to Account or Contact
✔
✔
Link Case even to Lead
✖
✔
Track all email communications to Case automatically
✖
✔
Forward to create New Case and link to original sender
✖
✔
Set Case flag if new email response received from customer
✖
✔
Create Contact from unknown sender
✔
✔
Email Loop protection
✖
✔
Email Spam protection
✖
✔
Set default Case fields on creation
✖
✔
Automatic Case Assignment based on keywords in email subject or body
✖
✔
Automatic Case Assignment based on sender email domain or email address
✖
✔
Automatic Case Assignment based on tagged user in email subject
✖
✔
Enable / disable Internal and External email notifications
✖
✔
Ability to re-open existing Case
✔
✔
Event logging for detailed diagnosis
✖
✔
Test Run feature to do testing without need of server-side synchronization
✖
✔
Extract desired text from email to set case fields (priority, owner, description, title, etc)
(*Requires Email Parser App)
✖
✔
For complete list of features, refer the app page link below:
https://zapobjects.com/apps/zap-helpdesk/
New updates from Zap Objects (Nov, 2018):
Zap Objects has now introduced "All-in-One" annual subscription plan.
This plan covers licenses for all Dynamics 365 CRM Apps provided by Zap Objects. For more details regarding plan benefits and coverage, refer: https://zapobjects.com/product/zap-all-in-one-annual-subscription/
Feel free to email sales@zapobjects.com for any questions.
Related Blogs:
How to create Case in #MSDyn365 when customer sends email directly to Support Agent instead of your Support Mailbox when using @ZapObjects Helpdesk – Email to Case App? link
Eliminating spam cases from being created through email-to-case when using @ZapObjects – Helpdesk solution for MSDYN365 for Customer Service link
Quick Email reply to Customer from Case form using Canned Responses link