Zap SSRS Report Scheduler App for Microsoft Dynamics 365 CRM Online / On-Premise allows you to:
Schedule Reports (out-of-box and custom) to be emailed on periodic basis (or save to SharePoint Online location). To learn how scheduling works, refer link.
Run Report using Workflow to attach to email / attach to notes / save to SharePoint.
(Example Scenario: Automatically generating Invoice PDF through workflow and send in email – link)
In the latest version (Sept 2019) of the Zap Report Scheduler App, we have added the support for Report Parameters too!
To configure report parameters:
Open Zap RS Configuration form
In Tab "General", Section: Report Parameters…
Open the record, where report parameter needs to be set
The screenshot below shows "Report Parameters" section of a test report: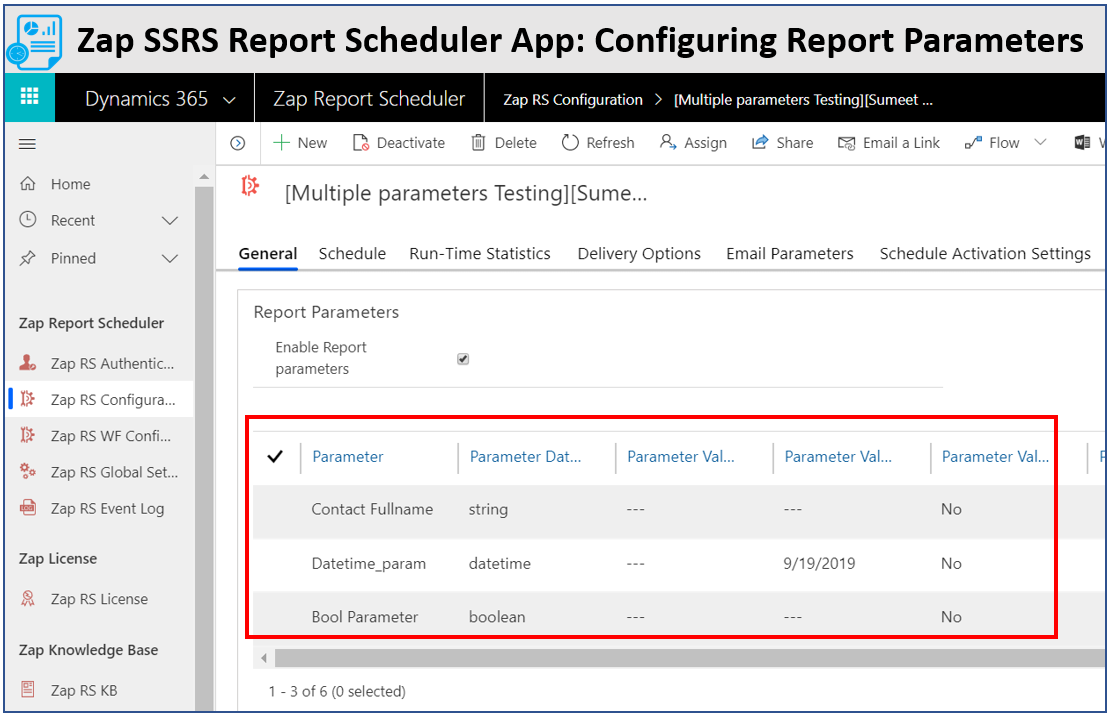 The parameters can be configured in both the below scenarios:
When Scheduling a report, so that it could be received periodically in email
When configuring the report, which could be called via your Workflow
For more information, refer Zap Report Scheduler app features page. Feel free to email sales@zapobjects.com if you have any questions.
Latest updates from Zap Objects (Sep 2019):
Our next app: "Zap Calendar Pro" will be released in Oct 2019!
New feature added to Zap SSRS Report Scheduler: Automatically email Dynamics 365 CRM Report as a PDF/Excel/Word attachment Or "Attach to Notes" Or "Save to SharePoint" using Workflow when using @ZapObjects SSRS Report Scheduler App for Dynamics 365 CRM Online / On-Premise. For more details refer: link
New feature added to Zap  Helpdesk – Email to Case App: Now Support agent can easily reply to Customer email from Dynamics 365 for Phone app (and have email "From" automatically populated with your Support Queue address)
Zap "All-in-One" Annual Subscription continues to grow with 1 New App added every quarter:This plan covers licenses for all Dynamics 365 CRM Apps provided by Zap Objects. For more details regarding plan benefits and coverage, refer: https://zapobjects.com/product/zap-all-in-one-annual-subscription/For questions regarding Zap All-in-One plan, email sales@zapobjects.com.