Zap Objects Helpdesk App is the most comprehensive Customer Service Support solution built on Dynamics 365 for Customer Service platform.
Below are some of the new features released in our Zap Helpdesk Oct 22 build:
1. Recent Case Updates Panel
Does your Support Team have good visibility of Case Updates?? You would say that you are tracking new updates to Cases based on Case Status changes. However there are lots of other updates happening in Cases on day-to-day basis which cannot be seen from Case View.
Now using Zap "Recent Case Updates" panel, you can see all Case Updates like:
Notes Added
Email Sent by Support Team (+ if opened by Customer – zap helpdesk is compatible with dynamics 365  email engagement feature)
Email Received
Field Changes (eg Case Status changed from New to In-Progress OR Case Priority changed from Low to High…. Please note that you can configure which fields in Case to be tracked)
Automated Email Notifications which were sent to Customer
Portal Comments Added
Besides users have the option to view notifications only for their Cases or even dismiss them (one-by-one or all). For more details, regarding this feature refer blog: Do you have visibility of Case Updates (email received / sent, status changed, priority updated, portal comment added,…) (link)
2. "Conversation Count" for better Case Visibility (now shown in Case View)
Now extending to our original requirement for better case updates visibility… we have added "Conversation Count" value to Case. As you may already know that Zap Helpdesk extracts new email responses from both incoming and outgoing emails + portal comments to create a nice noise free summary of all conversations. Now whenever a conversation is extracted… we increment the "Conversation Count" for the Case. This way… just by looking at the conversation count of various Cases… you can easily raise red flags for cases with higher than usual count! Below shows screenshot of Case View with "Conversation Count" field:

3. Support for Email Engagement Features
Microsoft Dynamics 365 Email Engagement is a set of powerful email features that provide intelligence related to emails you send. For more details, refer MSFT KB article.
Based on requests from our customers… we have now added support for email engagement features even in Zap Helpdesk App.
Follow Email Activities of Customers: Going forward emails that you manually send from "Zap Email Reply" section or any of the automated notification emails that go from Helpdesk App will have the ability to follow email activities. Below shows screenshot of Zap Email Reply section… where you can check the box to follow email activities of Customer.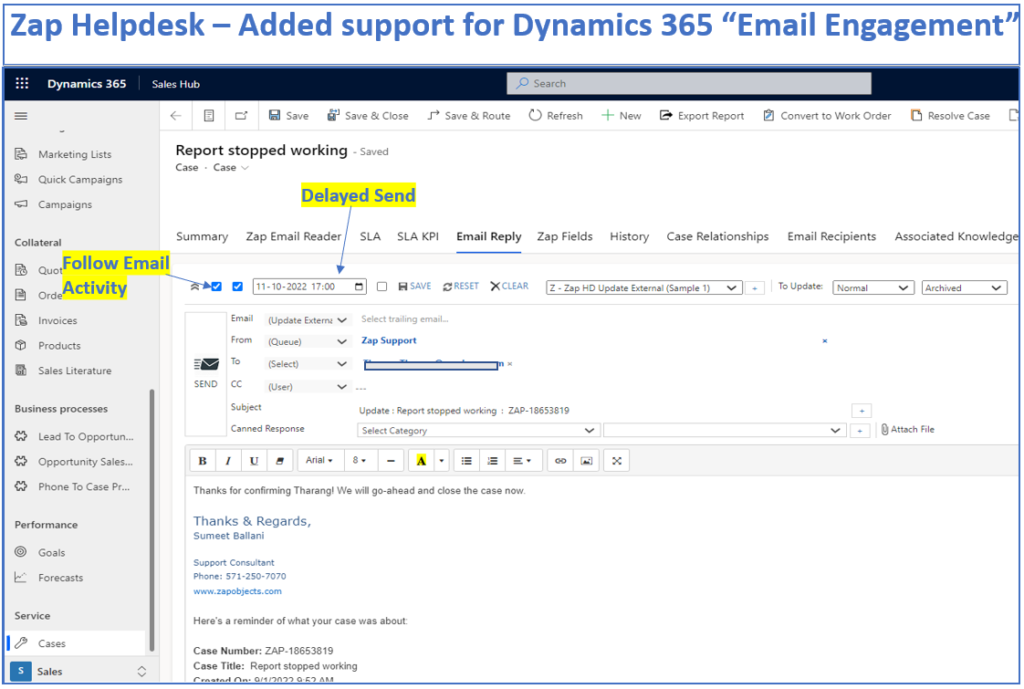 You will be able to see the opens & click analytics in Zap Case History Panel as well as "Recent Case Updates" panel!
Delayed Send: You can now schedule any email response to be sent to Customer using Zap Email Reply section (which is on the Case form). In Screenshot above… you can see that we have set a different date-time to delay the email sending!
4. Translations added for German Language: Helpdesk App is now compatible with German Language!
5. Bug fix for email signature not getting populated in "Zap Email Reply" tab after Dynamics 365 Release Wave 2 upgrade
Our existing Helpdesk Customers who had upgraded Dynamics 365 Release Wave 2 … reported an issue with email signature not getting populated in zap case email reply section… this has now been fixed in this release.
Out-of-box Dynamics 365 Email-to-case is very basic in terms of functionality that it offers. Zap Helpdesk – Email to Case App has tons and tons of features and can help you in providing a rich customer support experience.
To get a quick overview, refer our blog: How to design a Customer Support process when using Dynamics 365 for Customer Service?
To view all Dynamics 365 apps, check-out our homepage: https://zapobjects.com/
Please feel free to email sales@zapobjects.com if you have any questions or would like to schedule a demo!
Zap Recent Updates (Oct 2022)
1. New App  Released: Zap Case Time Entry App: Track and log time spent by support agents on cases directly from Case form (either using built in Timer functionality or manually add Start & End Times or duration)!
The next version which will have timesheet management functionality will be released in Aug 2022!
2. New Version Released: Zap Helpdesk App (v44.1.1.9) :A super major version of Zap Helpdesk has now been released. Some of the new features are: Case History, Email Reply – with ability to include full email and portal history in all new responses to customer, dedicated notifications module with all standard set of notifications built-in, Email Commands, and many more!
3. New Version Released: Zap Report Scheduler App (v 32.1.1.9):
1. When scheduling Excel or Word Template…user can now select even "Shared" personal excel template and "Shared" personal View
2. Automatic Retry for Report Generation using "Schedule Report" option: If due to any reason (eg report server busy), report generation fails… then we provide the option to retry report execution again after 1 minute… and then again if it fails then after 10 minutes. This retry mechanism would guarantee 99.99% delivery.