Using Zap PSA Case Time Tracking App, users can track time spent on working on Support Cases, task, phone call or email in One click!
Lets see how:
1. Easily start Timer from Case / Task / Phone Call / Email form in 1-Click: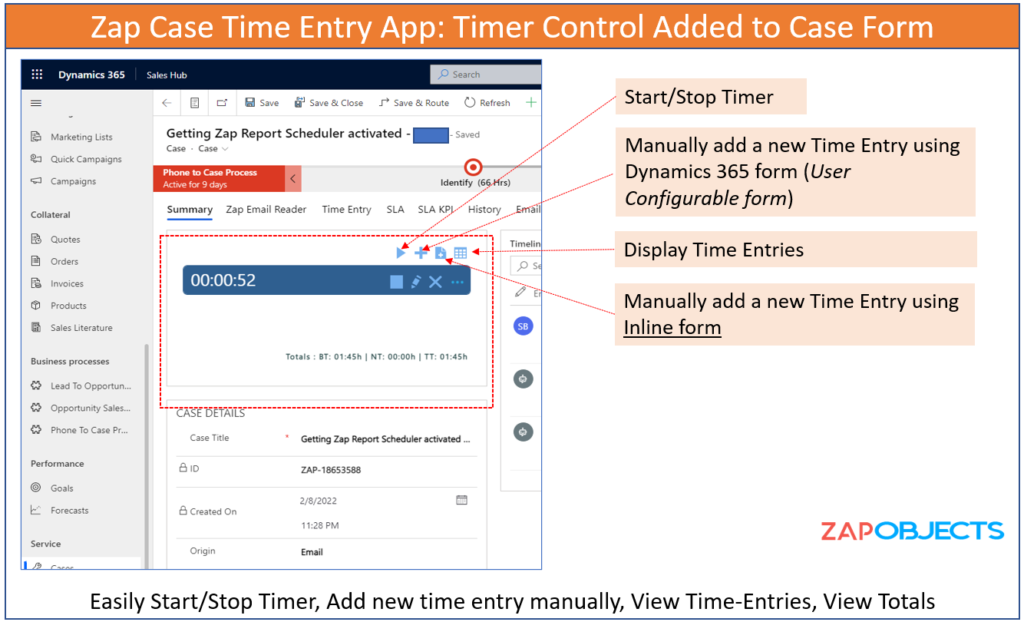 No manual input needed. Just start the timer and the case, customer details will get auto-populated in the time-entry record. If you have different contract rates for each customer then those too can be auto-populated in the time-entry record.
Notice the start timer button changes to stop timer button and displays the time spent on the case.
2. To manually add a new time entry: either use the inline form or fully customizable time-entry form: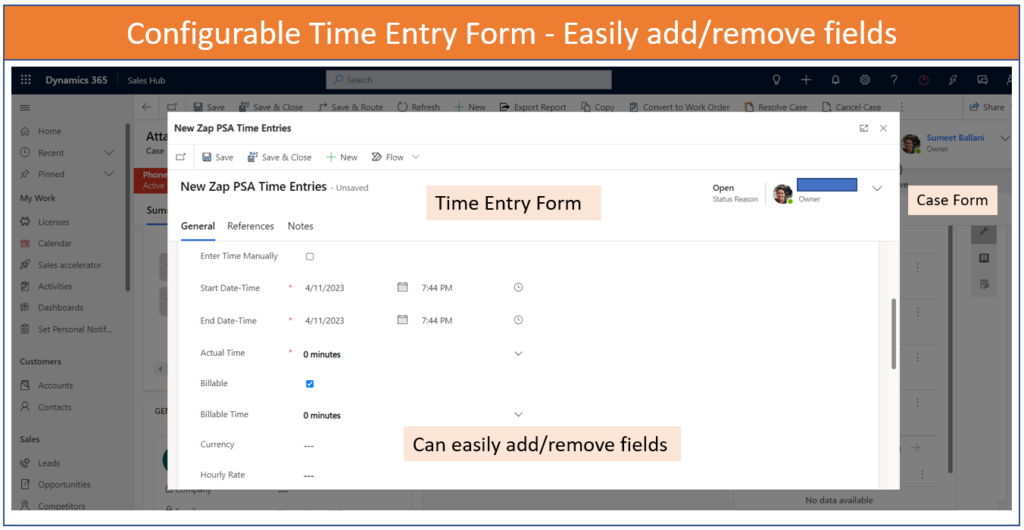 Since the time-entry form is a standard dynamics 365 form… you can easily add/remove your custom fields.
Note you can either enter start time, end time and have the "Actual time" be calculated automatically or can just enter the "Actual Time".
Here "Billable Time" is a separate field which gets auto-populated from "Actual Time". However you can edit and over-write this value.
3. My Active Timers View: With this View, you can quickly plan what to finish and what to pause, among your current work items.
When you have a lot going on, paying attention to a timer is the last thing on your mind. That's why Zoho PSA Time Entry App has Global Timer Panel, a view that lists all of your active timers. With this view, you can quickly plan what to finish and what to pause, among your current work items.
Besides if you are a Manager or Admin then you can view the active timers for all support agents!
4. Reporting is now easy!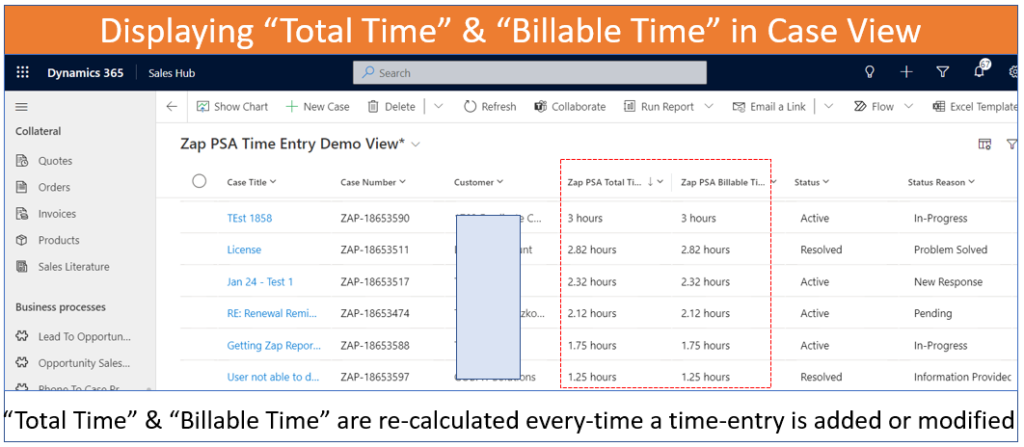 See the time-entries of your team in one place!
Group, sort and filter the reports
Easily export the time-entries and push them to your accounting system for invoicing
To learn more about Zap PSA App refer below links:
Features Page: https://zapobjects.com/apps/zap-case-time-entry/
Knowledge Base: https://support.zapobjects.com/
Zap Recent Updates (Apr 2023)
1. Completely Revamped: Zap Attachment Viewer (with drag-and-drop): This release doubles the features available earlier!!! Some of them are Improved UI, gallery view, drag-and-drop, rename file names, delete attachments, attach to email, view attachments from related records etc.
2. New Version Released: Zap PSA Time Entry App (Track Time against Cases): Track and log time spent by support agents on cases directly from Case form (either using built in Timer functionality or manually add Start & End Times or duration)! The latest version provides automatic calculation of "Extended Price" based on Hourly/staff rates that have been configured in Contract.
3. New Version Released: Zap Copy Record App (v 23.0.1.9): Now Copy Record even from One Entity To Another (e.g. Copy Record from Case To Opportunity (link)
4. New Version Released: Zap In-App Notifications App (v 53.0.1.9): Support for sending In-App Notification when User/s are mentioned in Timeline of any record (link)
5. New Version Released: Zap Report Scheduler App (v 33.0.1.9): Now automatically share the generated report download link to Teams channel. For details, refer blog: Automate the generation of Report and shared to Teams channel when using Zap Report Scheduler App (link)
6. New Version Released: Zap Helpdesk App (v44.1.1.9) :A super major version of Zap Helpdesk has now been released. Some of the new features are: Case History, Email Reply – with ability to include full email and portal history in all new responses to customer, dedicated notifications module with all standard set of notifications built-in, Email Commands, and many more!