It is a common practice for users to receive daily / weekly reports from Dynamics 365 Sales or Customer Service in email. This way they are kept updated with all business and operational data in real-time.
Zap Report/View Scheduler App allows scheduling Reports (Multiple PDF, Excel files in Email), Views, Excel Templates (Multiple Excel files in Email), Word Document Templates (Multiple Word Docs) + Save to SharePoint + Send Multiple Reports in Email using Power Automate / Workflow + Export Report (Manual) & Auto-attach to email + Send in Teams!
Recently we received a requirement from our existing customer that they would like an option to have the Daily Leads Follow-Up Report be generated at 9 AM on daily basis + be saved to SharePoint + share the download link in their Sales Teams Channel.
We are happy to let you know that now Zap Report Scheduler App can automatically share the report in your Teams Channel too!
This blog will explain the configuration steps needed to schedule a report, save it to particular SharePoint folder path and then have the download link be shared across Teams Channel:
Step 1: Configure report to be scheduled (Select Entity & Report)
Step 2: Configure the schedule (daily / weekly / monthly / hourly):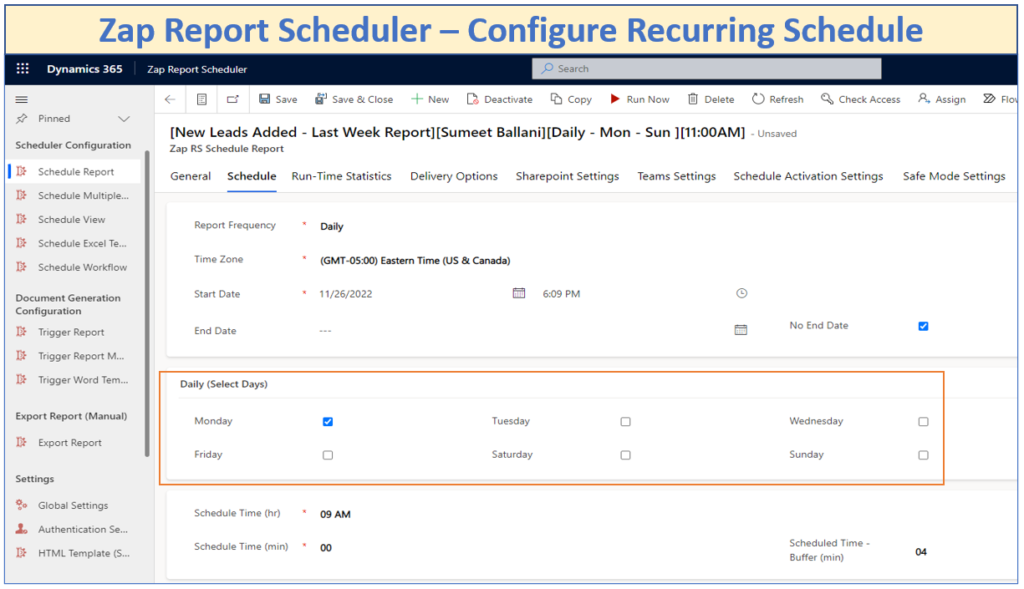 Step 3: Configure Delivery options (Email Inline / Email Attachment / SharePoint / Teams):
Step 4: Configure SharePoint folder location: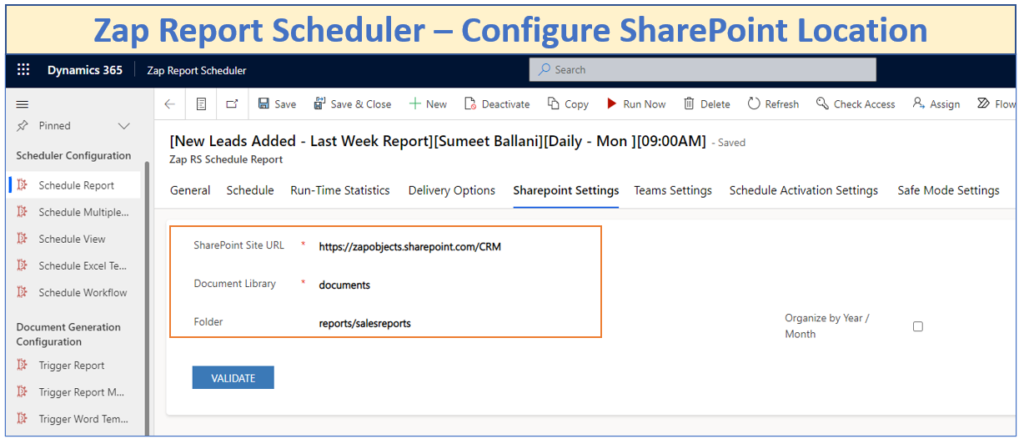 Step 5: Configure Teams Channel where Report download link needs to be posted: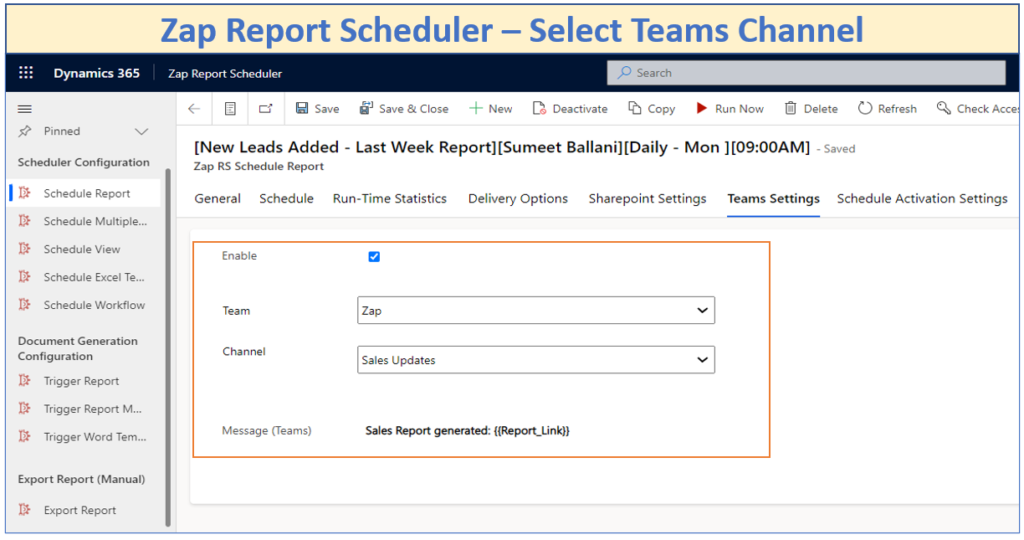 The report download link (SharePoint file location) will be automatically posted on this teams channel when the report has been generated by Zap Report Scheduler App! This way everybody stays in-sync with the new leads added last week.
For more details, refer features page: https://zapobjects.com/apps/zap-ssrs-report-scheduler/
For list of all our apps, refer https://zapobjects.com/
Latest Updates from Zap Objects (Aug 2023):
1. New Version Released: Zap Calendar Pro (Team Calendar + Map Any Entity Data to Calendar): Now display activities in Team Calendar – color-coded by Owner. (earlier you could display activities color-coded only by activity type)
2. New Version Released: Zap Time Entry App (Track Time against Cases): Track and log time spent by support agents on cases directly from Case form (either using built in Timer functionality or manually add Start & End Times or duration)! The latest version provides automatic calculation of "Extended Price" based on Hourly/staff rates that have been configured in Contract.
3. New Version Released: Zap Copy Record App (v 23.0.1.9): Now Copy Record even from One Entity To Another (e.g. Copy Record from Case To Opportunity (link) or Contact to Lead (link) )
4. New Version Released: Zap In-App Notifications App (v 53.0.1.9): Support for sending In-App Notification when User/s are mentioned in Timeline of any record (link)
5. New Version Released: Zap Report Scheduler App (v 33.0.1.9): Now automatically share the generated report download link to Teams channel. For details, refer blog: Automate the generation of Report and shared to Teams channel when using Zap Report Scheduler App.
6. New Version Released: Zap Helpdesk App (v44.1.1.9) :A super major version of Zap Helpdesk has now been released. Some of the new features are: Case History, Email Reply – with ability to include full email and portal history in all new responses to customer, dedicated notifications module with all standard set of notifications built-in, Email Commands, and many more!