Zap Objects: Helpdesk App provides a very powerful Customer-Service functionality which has been built on top-of Dynamics 365 for Customer Service platform.
To get a high level overview of the Email-to-Case Support process using Dynamics 365 Customer Service, please refer our earlier blog: How to design a support process when using Dynamics 365 for Customer Service?
This blog talks about "Update Email" feature which has been recently released: Ability to include full email & portal history in all new Email responses being sent to Requestor / Customer!
We have observed the following in regards to communication between Support Agent & Requestor of Support Case:
Requestor mainly interacts with Support team through emails.
Multiple people from Requestor's team can also respond through email.
Now each email has actual response + redundant responses from previous conversation thread.
This "mix bag of responses" can make it very hard to see "who said what and when"
To resolve this problem, most third party Customer Support systems like Zendesk / Freshdesk  have a functionality to extract only the newer email responses from all incoming/outgoing emails and create a clean email communication summary! Besides they also have ability to send this cleaner email history to Requestor along with any new response from Support team.
With latest release of Zap Helpdesk (Feb 22)… We too have added this feature:
We extract newer email responses from each sent/received email and create a nice noise-free email history! (This is only for emails sent/received regarding Case)
We not only display this email history summary in Case – History section… but also include this Case History (Email as well as Portal comments) in the email responses sent to Requestor!
Lets see how:
Below Screenshot shows a sample Email received from Requestor:
Here Zap Helpdesk App extracts only the newer email response (… excluding all unwanted repeatable text from existing email threads) and builds a clean Email History which is easier to read!
Screenshot below shows the History section (which is part of Zap Helpdesk App) in Case form with newer email responses which have been extracted:
Support Agent can now draft a email reply to Requestor and optionally include this clean email history too!
Below screenshot shows "Email Reply" section (added to Case form) which is also part of Zap Helpdesk App: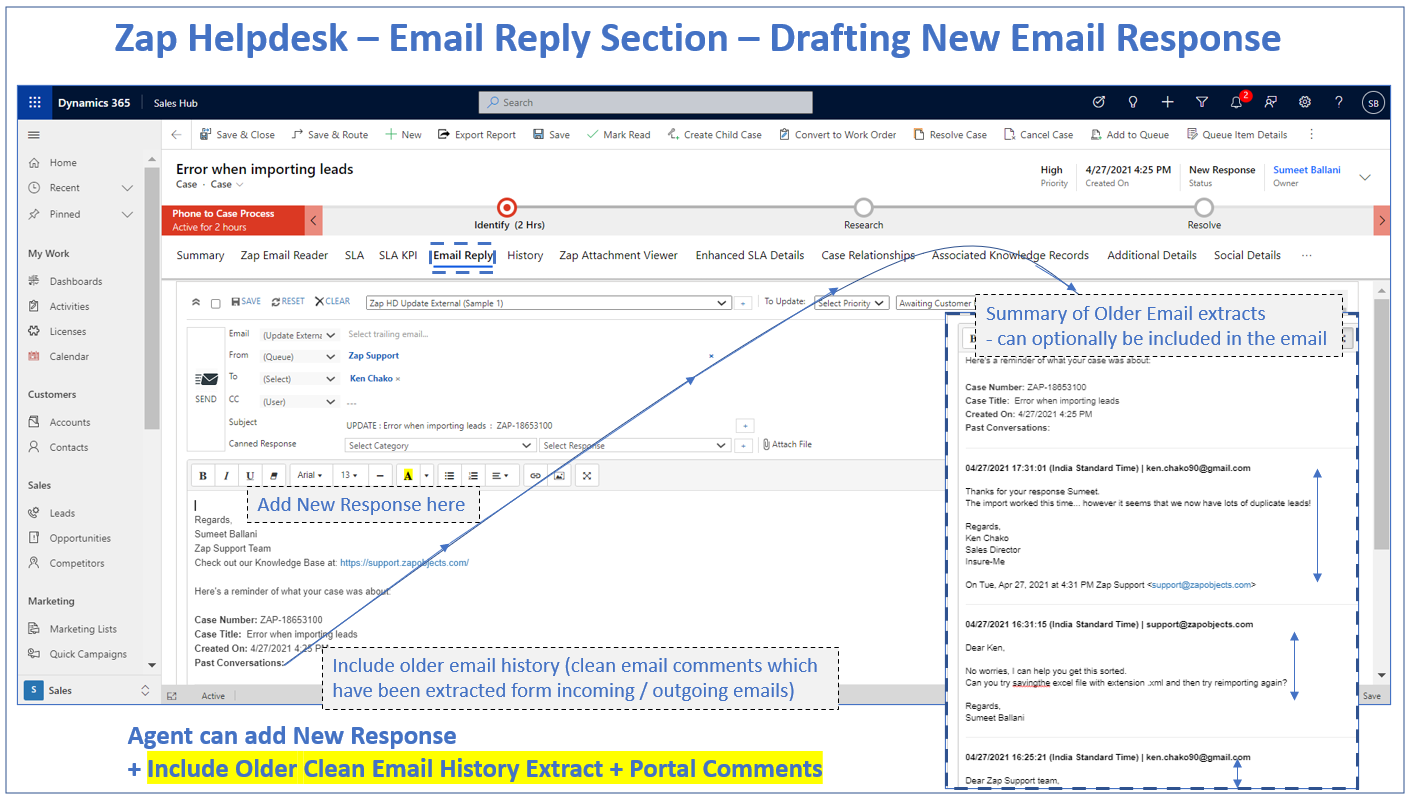 Thus the email sent by Support Agent will not only have the new email response… but also clean history of email and portal comments!
Below is the sample email received by Requestor (New Response + Past Email & Portal Communication History):
============================================================
Dear Ken,
A quick resolution to present scenario would be to go to imports section…select – delete all records imported during this import run… and then re-import the leads back (and have "Enable Duplicate detection" setting checked)
Regards,
Sumeet Ballani
Zap Support Team
Check out our Knowledge Base at: https://support.zapobjects.com/

Here's a reminder of what your case was about:

Case Number: ZAP-18653100
Case Title:  Error when importing leads
Created On: 4/27/2021 4:25 PM
Past Conversations:

<-Email footer comment taken from email template->
——————————————————————————————————————————————-
This email is generated by Zap Helpdesk App built on Dynamics 365 for Customer Service! To schedule demo, email sales@zapobjects.com
============================================================