Zap Report / View Scheduler App allows you to schedule Export of Reports to run at regular interval (Daily / Weekly / Monthly) and deliver in email.
SharePoint is widely used by many organizations to act as a central repository for documents that are shared across users. A very common request from our Report Scheduler App Customers was to provide a functionality – to upload the reports directly to companies SharePoint site where it can be accessed for company meetings – without all users having to login to Dynamics 365 CRM to see the reports. Besides these could also be very useful from historic record keeping point of view.
We are happy to let you know that along with email delivery option, we also have ability to automatically upload the Reports (excel / pdf / word / CSV) to SharePoint document library! (Please note that presently this feature is supported for Dynamics 365 SharePoint Online.)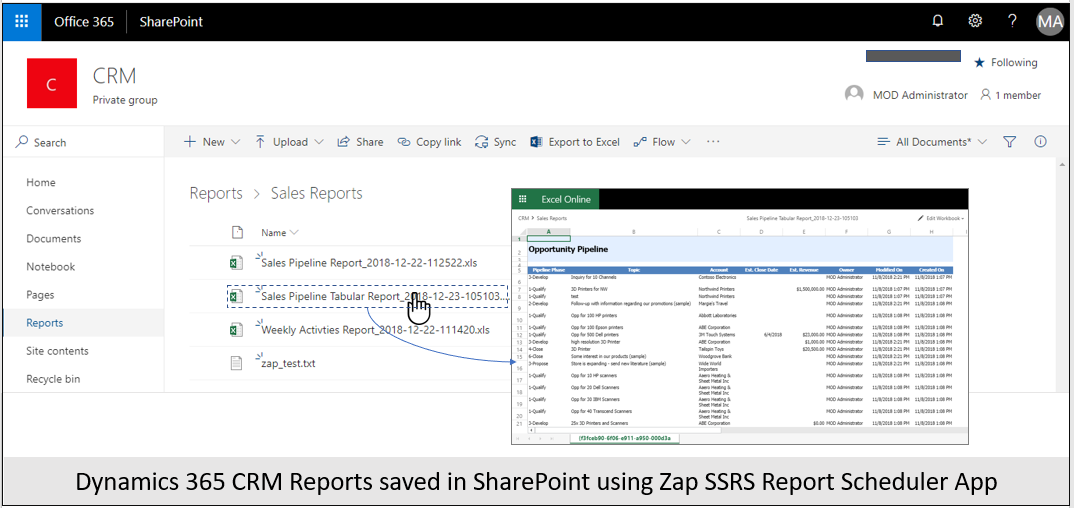 Use Case: Automatically save Dynamics 365 – Sales Pipeline report to company SharePoint Site based on scheduled recurrence schedule:
Step 1: Configure Zap Report Scheduler App in your Dynamics 365 environment.
Step 2: Create Zap RS Configuration record: Here we select the entity, report, schedule pattern, delivery options, email recipients, report format. For details on configuring report using SSRS Report Scheduler App, refer our earlier blog: Scheduling reports in Dynamics 365 CRM Online using Zap SSRS Report Scheduler App.
Step 3: Configure the SharePoint Settings: A new section has been added to Zap RS Configuration form called as SharePoint Settings. As shown in screenshot below, here we can configure the SharePoint URL, document library, folder path, file name and time-stamp details:
Now automatically based on the scheduled recurrence pattern, the report will be saved to your SharePoint Site in the document library mentioned in configuration!
To learn more about Dynamics 365 – Zap Report Scheduler App, refer below link:
https://zapobjects.com/apps/zap-ssrs-report-scheduler/
Zap Recent Updates (Aug 2022)
1. New App  Released: Zap Case Time Entry App: Track and log time spent by support agents on cases directly from Case form (either using built in Timer functionality or manually add Start & End Times or duration)!
The next version which will have timesheet management functionality will be released in Aug 2022!
2. New Version Released: Zap Helpdesk App (v44.1.1.9) :A super major version of Zap Helpdesk has now been released. Some of the new features are: Case History, Email Reply – with ability to include full email and portal history in all new responses to customer, dedicated notifications module with all standard set of notifications built-in, Email Commands, and many more!
3. New Version Released: Zap Report Scheduler App (v 32.1.1.9):
1. When scheduling Excel or Word Template…user can now select even "Shared" personal excel template and "Shared" personal View
2. Automatic Retry for Report Generation using "Schedule Report" option: If due to any reason (eg report server busy), report generation fails… then we provide the option to retry report execution again after 1 minute… and then again if it fails then after 10 minutes. This retry mechanism would guarantee 99.99% delivery.