Zap SSRS Report Scheduler App allows you to schedule Dynamics 365 CRM Reports to run at regular interval (Daily / Weekly / Monthly) and deliver report in email.
SharePoint is widely used by many organizations to act as a central repository for documents that are shared across users. A very common request from our Report Scheduler App Customers was to provide a functionality – to upload the reports directly to companies SharePoint site where it can be accessed for company meetings – without all users having to login to Dynamics 365 CRM to see the reports.
We are happy to let you know that along with email delivery option, we have now (Jan 2019) added feature to automatically upload the Dynamics 365 CRM reports (excel / pdf / word / CSV) to SharePoint document library! (Please note that presently this feature is supported for Dynamics 365 SharePoint Online.)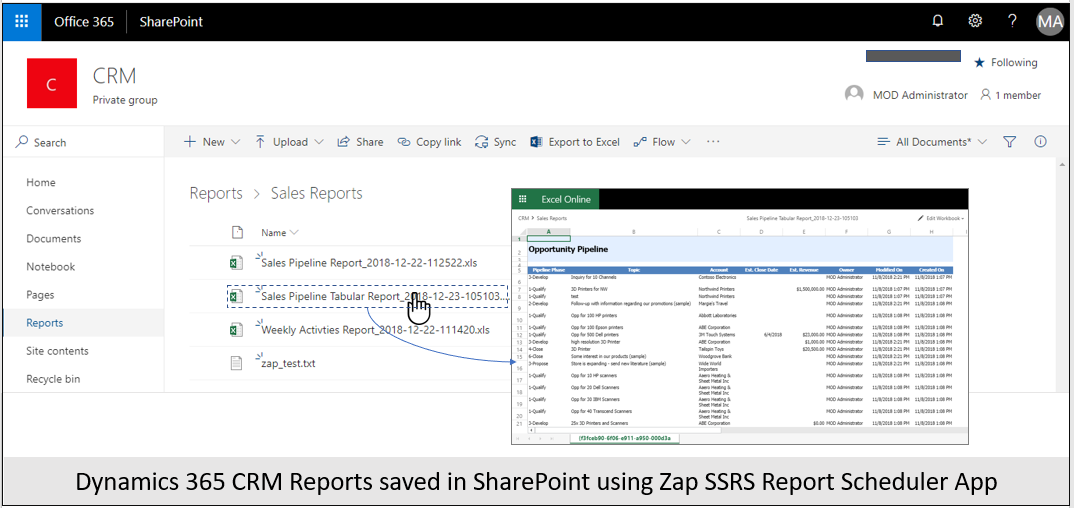 Use Case: Automatically save Dynamics 365 CRM – Sales Pipeline report to company SharePoint Site based on scheduled recurrence schedule:
Step 1: Configure Zap SSRS Report Scheduler App in your Dynamics 365 CRM environment.
Step 2: Create Zap RS Configuration record: Here we select the entity, report, schedule pattern, delivery options, email recipients, report format. For details on configuring report using SSRS Report Scheduler App, refer our earlier blog: Scheduling reports in Dynamics 365 CRM Online using Zap SSRS Report Scheduler App.
Step 3: Configure the SharePoint Settings: A new section has been added to Zap RS Configuration form called as SharePoint Settings. As shown in screenshot below, here we can configure the SharePoint URL, document library, folder path, file name and time-stamp details:
Now automatically based on the scheduled recurrence pattern, the report will be saved to your SharePoint Site in the document library mentioned in configuration!
To learn more about Dynamics 365 CRM – SSRS Report Scheduler App, refer below link:
https://zapobjects.com/apps/zap-ssrs-report-scheduler/
New Updates from Zap Objects (Jan 2019):
1. Our Next App: Zap Attachment Mover – is scheduled to be released in Feb 2019
Zap Attachment Mover App automatically moves all Dynamics 365 CRM attachments from emails as well as notes to either SharePoint or Azure blob storage based on configured rules. Never worry about expensive Dynamics 365 Storage again!
2. Zap Objects has now introduced "All-in-One" annual subscription plan:
This plan covers licenses for all Dynamics 365 CRM Apps provided by Zap Objects. For more details regarding plan benefits and coverage, refer: https://zapobjects.com/product/zap-all-in-one-annual-subscription/
(We will also be adding license for our next App: Zap Attachment Mover under this combo plan. However there would be certain additional charges for Azure service incurred for this app)