Zap Objects: Helpdesk Email-to-Case Solution provides a very powerful Email-to-Case functionality which has been built on top-of Dynamics 365 for Customer Service platform.
When using Out-of-box Email-to-Case in Dynamics 365 for Customer Service, you would have noticed that Case is not created from Fwded Emails having a different "SentTo" address (then the Queue email address on which Email-to-Case Rule has been configured).
For example, you may have configured Email-to-Case rule for Mailbox with Email: support@mycompany.com. You also receive emails on desk@mycompany.com which is automatically forwarded to your support mailbox. Your current "Email-to-Case" setup would create cases having SentTo as: support@mycompany.com…However Case will not be created for emails having SentTo as desk@mycompany.com
This is a very common scenario in Support industry…
Where all support issues received on Companies Support mailbox (support@company.com) are directly forwarded to the Support mailbox of Service providers (support@supportprovider.com)…
Now using Zap Helpdesk App – Email Alias feature… You will be able to create Cases even from such forwarded emails.
A new sub-grid has been added to Helpdesk configuration form called as "Email Alias".
Here you can add the email aliases…(as shown in screenshot below):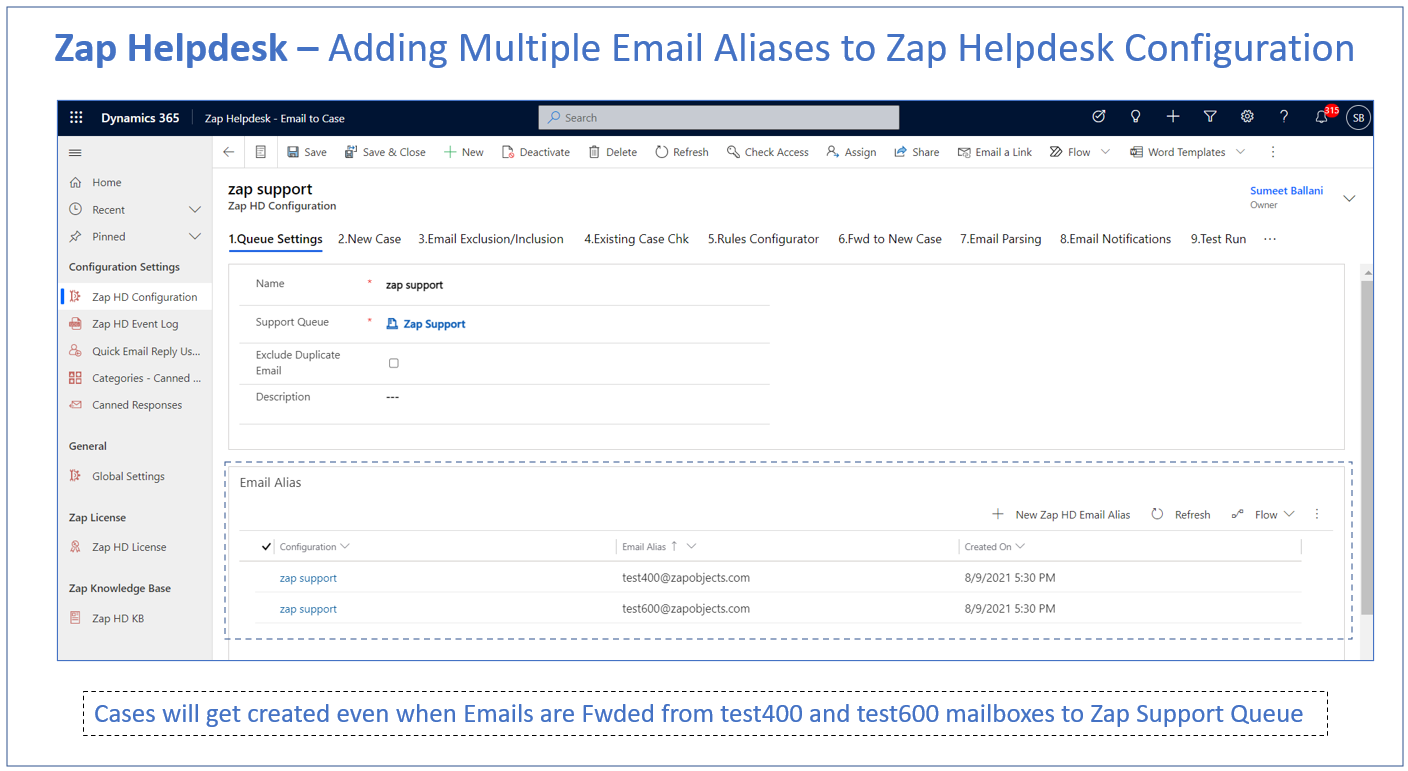 Also browse to "Global Settings"…and enable the setting "Enable Email Alias".
Latest Updates from Zap Objects (Aug 2021):
1. New App Released: Zap Audit User Actions: Boost User Adoption by Easily tracking User Logins and Actions (Create / Update / Delete / Qualify / Opp Won/ Case Resolved / Task Completed etc)! This App will also be part of Zap All-in-One Subscription!
2. Next Major version of Zap Helpdesk App will be released in Oct 21… there are tons of new features being added!!
3. Next Major version of Zap Notifications / Alerts App will be released in Nov 21.
4. New Version Released: Zap Report Scheduler App (v 30.1.1.9):
a. 1-Click Export of Report to PDF/Excel & Auto-Attach to Email (from Entity Form)
b. Bug fix for allowing special characters in email address (when adding email recipients for scheduling)
c. Now supports even Hourly Scheduling
d. Ability to Schedule Workflows on selected records!
e. Now use Power Automate to generate PDF documents
5. New Version Released: Zap Email Parser App (v 25.0.1.9):
a. Ability to define a configuration as default configuration. So if none of the filter conditions match then you can have this default configuration executed.
b. Added support for Dynamic date values when creating parsing rules (e.g. automatically populating current date or current date + X days)