Zap Objects – Helpdesk Email to Case App is the most comprehensive Helpdesk App built on top of Dynamics 365 for Customer Service platform. You will be amazed by the breadth and depth of functionalities it offers and how smooth your Support process can be!
Business Scenario: 
A customer creates a Case and your Support Agent solves the Case and puts the status as ' Resolved '.
Now the customer will see that your agent made a reply in her/his email with the correct answer.
Ow Goodie! This worked I shall thank the agent who helped me!
The customer will now reply to the email ' thank you for your help it worked! '
This is all awesome and epic but on the backside of the Case will be reopened and it's more work for the agent to close it again!
This is very common scenario that every Support Team faces now and then!
Solution:
Theoretically there could be various approaches that could be tried… Like:
Approach 1: Once the Case is Resolved… Intercept any email received regarding the Case to see if it has "Thank You" keyword and if found then do not reopen the Case.
However what if the Customer was just trying to say "Thank You for your help but i still need more help…"
Approach 2: Let the Case be re-opened by Customers email and then someone manually scans over such Cases and closes them.
This is quite laborious and will also mess up the re-open statistics!
Approach 3: Add text in your email to Customer saying something like "If you do not agree that this matter is resolved, please simply just reply to this email with your comments. ".
However we have found that this approach too fails most of the time as the Customers just want to be polite…
As you can see that none of these approaches to this issue is ideal and has some or other cons…
Based on feedback received from our Helpdesk – Email to Case App Customers, we took the following approach:
Approach 4: Our approach to resolve this issue is to avoid re-opening the Case for X hours after Closing the Case…(even though a Customer email reply was received.)
Lets understand this better using the example scenarios:
Present Scenario: Support Agent resolved the issue…then Closed the Case…and notified the Customer (through email)
Below are the present configuration settings: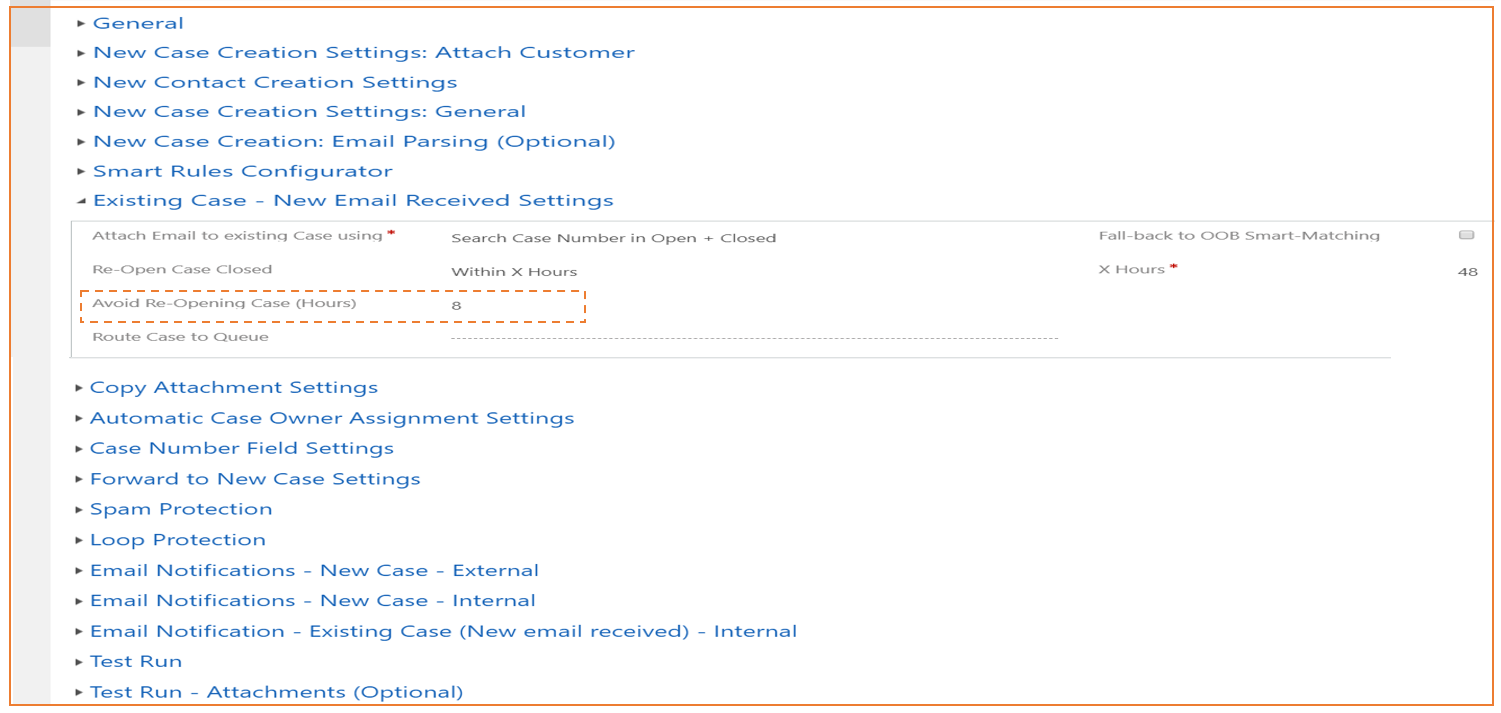 Scenario 1: Customer Replies with THANK YOU Email within 8 hrs of Closing the Case (Occurs 60-70% of the time)
The Case will not re-open since the Customer email reply was received within 8 hrs of closing the Case! 🙂 So less of rework for the Support Team… Also the Case re-open statistics will not get affected with this false re-open if it were to happen!
Scenario 2: Customer Replies with NEED MORE HELP email within 8 hrs of Closing the Case (Occurs 5-10% of the time)
Here the Case is not re-opened automatically.
However note that whenever a new email reply is received regarding the Case, then the Support Team and Case Owner are notified (with actual email update)… So the team can manually re-open the Case if needed.
Scenario 3: Customer Replies back after 8 hrs of Closing the Case (Occurs 10-20% of the time)
Most of the times, these replies are requesting for more help. Since the email was received after 8 hrs of closing the Case and less than 72 Hrs of closing the Case… the Case will be re-opened.
We understand that this is not a full-proof approach to resolve this issue…however it is a good step forward!
If you have a need to streamline your Helpdesk Support process then please do go through below references:
Zap Helpdesk Solution product page: https://zapobjects.com/apps/zap-helpdesk/
Blog Link: How to design Support process (Email based) when using Dynamics 365 for Customer Service
To get started with your free trial or to Schedule a demo, feel free to email support@zapobjects.com!
Latest updates from Zap Objects (Aug 2019):
We have released New App: Zap Email Reader – which provides Outlook like interface to read emails in CRM.
Our next app: "Zap Activity Rollup" will be released in Sept 2019!
New feature added to Zap SSRS Report Scheduler: Automatically email Dynamics 365 CRM Report as a PDF/Excel/Word attachment Or "Attach to Notes" Or "Save to SharePoint" using Workflow when using @ZapObjects SSRS Report Scheduler App for Dynamics 365 CRM Online / On-Premise. For more details refer: link
New feature added to Zap  Helpdesk – Email to Case App: Now Support agent can easily reply to Customer email from Dynamics 365 for Phone app (and have email "From" automatically populated with your Support Queue address)
Zap "All-in-One" Annual Subscription continues to grow with 1 New App added every quarter:This plan covers licenses for all Dynamics 365 CRM Apps provided by Zap Objects. For more details regarding plan benefits and coverage, refer: https://zapobjects.com/product/zap-all-in-one-annual-subscription/For questions regarding Zap All-in-One plan, email sales@zapobjects.com.